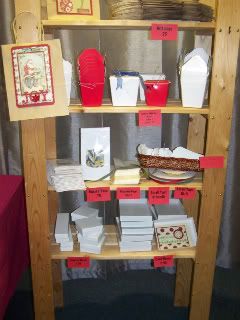 Packaging
okay ... you've baked the cookies, made the chocolates, made jewelry & cards ... now. How do you finish them ? Well, with beautiful packaging , of course !
I have just what you need !!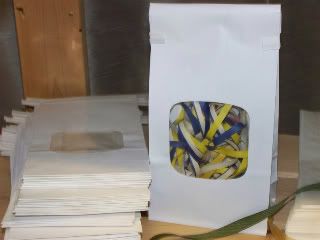 *Bakery Bags ... these bags are waxed inside so they are perfect for cookies, popcorn, any kind of food. They close with little metal bendy ties and even have a little window to show off your homemade goodies ... or candy from the bulk store ... You could even package ribbon for a crafter, bird seed for a bird enthusiast, dog cookies, nuts'n'bolts for a handyman ... limitless !!
*Glassine Bags ... for individual cookies or squares, small loaves of fruitcake... or package up a handful of homemade tags or cards ... perfect !!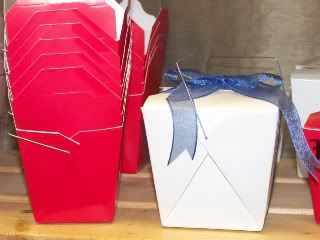 * Chinese Take Out boxes in 2 sizes and colours ... last year I put small bags of caramel corn in these boxes, tied them with a ribbon and added a small stamped tag. Or buy bulk candy & fill the boxes. Easy ! Great little gifts for neighbours, customers, delivery people ...
* Kraft Gift Bags ... these are great for almost anything ! Stamp on them, glue on old Christmas cards or paper, or leave them plain.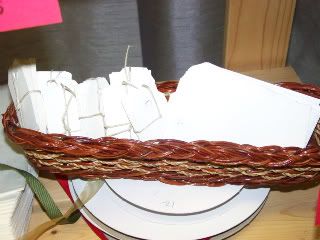 * Tags ... small and large ... stamp on these or glue on paper & ribbon.
* Ribbon ... I have lots of ribbon ...
* Jewelry Boxes ... square or long bracelet size ... the perfect way to show off your beautiful creations !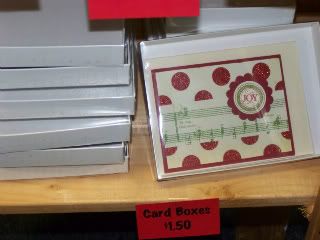 * Card Boxes ... make an assortment of cards and package them in one of these great clear top boxes. I also have the envelopes for cards if you need those ! The boxes are also really nice for pieces of jewelry or to package a set ... earrings & necklace ..
The right packaging is the perfect finish to a thoughtful gift !
**********************************************
I am open the regular hours this week . Next week I will be open the 24th until 2pm. Closed the 25th and 26th.