Well, it's been a busy week here. My "lost" bead order finally arrived as well as 2 boxes of scrapbooking stuff. And notification that several more boxes are on their way for , hopefully, next week !!
So here's what's new :
BEADS : I am restocked on wire, headpins, earring posts & wires,magnetic clasps, Delica beads, etc... AND I have a whole bunch of new 4mm firepolished beads as well as more strands of vintage style beads. And then there are the semi precious ... beautiful tiger eye, African turquoise, and green opal in puffed square shapes. And in the rounds I have 6mm picture jasper ,6mm gorgeous turquoise (the mossy green with brown crackles), and various sizes and shapes of the blue turquoise. There are also some large dark green turquoise donuts and some BEAUTIFUL ovals of pressed turquoise. ( love those !!)
I am working on some really fun pendants but I have wandered off to too many other things and don't have them done . Next week I'll have photos !!
PAPER : loads of new Jenni Bowlin stuff - Hallowe'en Bingo cards, all sorts of chipboard buttons, alphabet stickers, note books, apothecary stickers, etc... ( I am a sucker for Jenni B Stuff !!)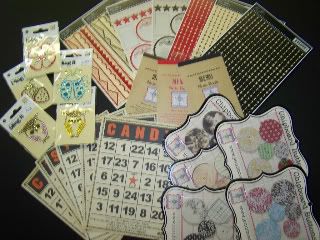 Great new Bling It from Basic Grey ... ladybugs, owls, flowers, ... so pretty !! Adhesive rub ons and the sheets of glitter and flock that will stick to them. FLOCK ON !!
Maya Road mini sheers - owls and birds - as well as trinket pins, girl chipboard albums, bird coaster albums, and an accordion house book.
More Tim Holtz odds and bits for the "flea market" table. And also his "Tiny Attacher" , an awesome little tiny stapler. SWEET !
Shabby Green Door : really cute rubons, stamps, TWINE on the cutest spools. Really homespun and adorable !!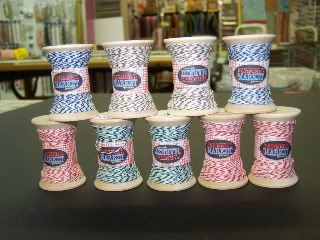 Abbey Road (My Mind's Eye) : tons of cute titles, transparencies, die cuts ... all under $1 each. I also have their new brads.
And also from My Mind's Eye ... great Christmas & Hallowe'en paper packs as well as all the accessories. I have Colourful Christmas, Days of Christmas, Boo to You, The Spiders, and Ooh LaLa. AND, I have a DEAL for you. If you buy the paper pack (9 sheets + accessories), brads, ribbon set,stickers, and glittered chipboard elements for "Colourful Christmas" or "Boo to You" it would cost over $31 but you can have the whole **SHEBANG** for $25. Yep, just 25 bucks !! Hurry though, they won't last too long !!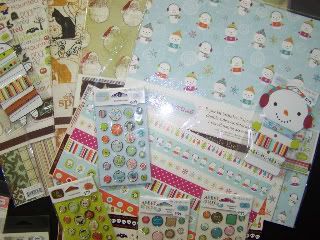 And here's a quick book I made with the Days of Christmas paper pack. This was sooo easy.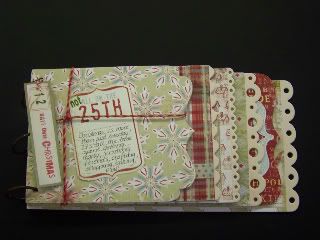 I usually over complicate things ... looking for all sorts of matching stuff ... and it takes me forever. Well, I decided to make a sample and use just what was in the pack with a bit of ribbon and the odd button. An hour later I was done. AN HOUR !! I used the "All on the 25th" tag and added the word "NOT".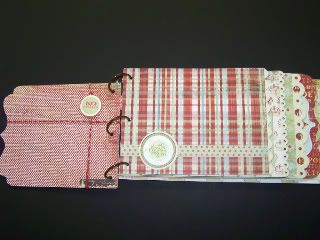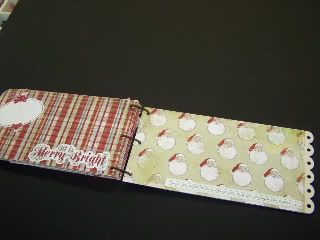 I am going to use this to put pictures in of the days BEFORE Christmas that are just as, actually more, fun than the actual day. I didn't add tons of embellishments - I can do that after the photos are in. The book is from Bo Bunny and is 6" wide so you simply split all your paper, grab your glue stick, and start pasting !! FUN FUN FUN !! Great for you or to give as a gift to someone else - they can add their own photos & comments !!