Hi everyone !
Sorry - I don't have much for you this week. I've had the flu all week and am way behind ... not to mention feeling crappy !! But I did come up with a kit for The 12 WEEKS OF CHRISTMAS - Week 4 . It is a kit for three cards and everything you need is in the kit except for adhesive. The price is $5. Add a comment if you can't get in and want any saved.
Here it is ...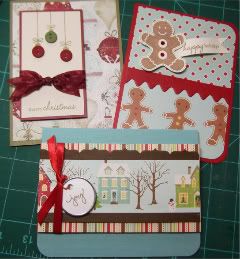 I also received another order of the supplies that I used for the first kit ( gift bag & card) so I will have more of those ... next week !
I will have new paper from Fancy Pants, great beads, as well as a bunch of other things. But for now I am eating chicken soup and preparing to feel "all better" tomorrow when I am open.
Take care !!