Hello !
Last week was mainly beads and this week is mainly paper.
BEADS : I have added a few more of the semi-precious as well as quite a few agate slabs with bails attached - ready for a quick necklace !! Check out the samples I've made for some ideas on what to make with all those beauties. I have a few more on the go that should be ready next week ... as well as a new way to make pendants !!
PAPER : where do I start ?!! Wow!! Okay ... here goes ...
* STAMPS ... lots of new stamps from Stampendous (large sets and itty bitty individual stamps), 7 Gypsies, Imaginescence, Inkadinkadoo, The Paperie Girls, and We R Memory Keepers. The designs range from sea shore themes to cocktails to card stamps to cupcakes to music... and more ...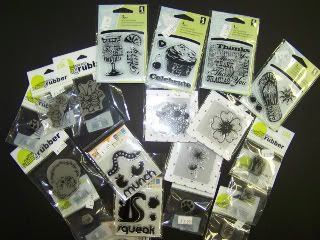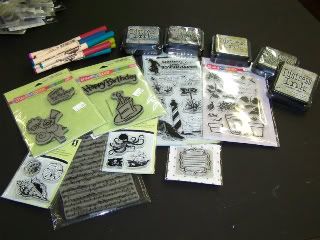 And to go with those stamps ... new Distress Ink from Ranger, Ranger Adirondack Ink Markers, sets of Tombow Stamp markers... Here are some of the colour names : stream, lettuce, crushed olive, tumbled glass, stormy sky, wild plum ... sound good don't they ?!
* Fun Embellishments ... Tim Holtz Ruler Ribbon ... can't wait to use this !!, Sticky Backed Canvas from Claudine Helmuth, fun summer tags from We R Memory Keepers,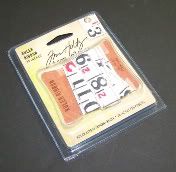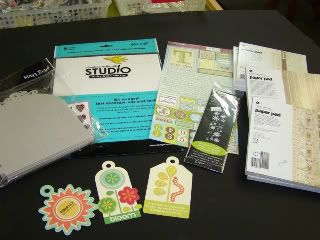 * PAPER PADS 6x6 : from Basic Grey - Basic Manila, Basic Kraft, Capella ... great patterns for cards and mini albums. The Basics are just that - basic- but a bit more interesting than just plain cardstock !!
* MAYA ROAD : birdcaeg chipboard album with bird die cuts.
* PUNCHES - butterfly, and my new FAVOURITE!!, scalloped scallop edger. This makes the most beautiful edge !!
* RIBBON - 3/8" ribbon from BoBunny in the double dot pattern. That means dots on both sides so you can tie it easily ! The colours in stock this week are Olive and Raspberry.
* 7 GYPSIES : mini labels. These are great for adding a little bit of journalling or mini titles. They come in several different themes - travel, naked - in black or multi, fleas market, and fill in. I love these !! I also have the Paris Bookcovers from the Gypsies as well as more of their binder rings in chocolate.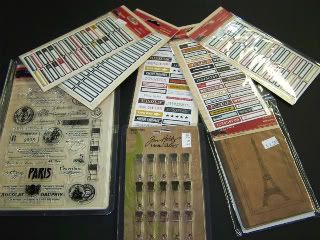 * Tea at Elsie's - this is beautiful paper. Soft floral and lace patterns in really nice colours. I think these would make beautiful cards. Sage, apricot/peach, and navy are the predominate colours. The photo doesn't show this paper that well. You'll like it in person !!
* The Paperie Girls -a new company with some great stuff !! I have 2 lines from them and I love them both ! The first is "Paper Girls" and is shabby chic and vintage in style. Florals, ledger pages, scallops and polka dots. The diecut page is a sweet scalloped page of pink dots. There is also a wonderful package of matching stamps.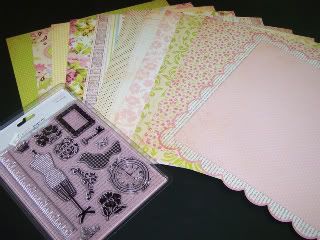 I made this album from My Little Yellow Bicycle with the line & I love it. I added some flowers and bling from Prima as well as the new Bo Bunny Ribbon and Basic Grey Bling. I love how the pages are all different shapes.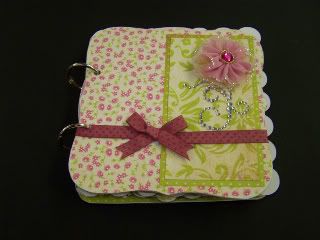 Here are a few peeks inside as well ...
The second line is called "On Holiday" and is fun fun fun ! It is bright but still vintage (does that make sense ??) and has wonderful colours !! Reds, navy, pale blues, greens ... the whole gamut ! It is fresh and summery !
The diecut pages are really fun ... old postcards, a map, and postage stamps. There are also brads and charms that come with the paper.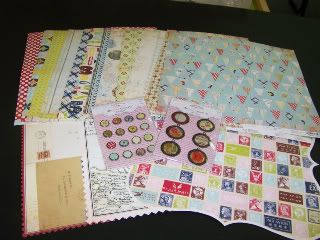 I made a small "HOME" wall hanging using a Melissa Frances BINGO card and some fun embellishments. Sorry, no photo but it is on display in the store. And I will be selling the cards individually if you want to make one.
* Assorted PAPERS : I have a few odds & ends ... maybe vacation papers or Fathers Day papers. First, a few camping papers from Karen Foster as well as stickers. Then a few sports themes - hockey & soccer. And then a NOVA SCOTIA paper !!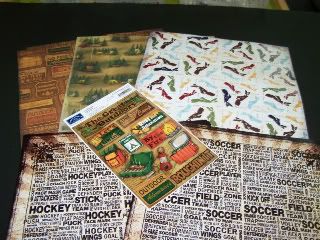 * MAX & RUBY from Basic Grey. This is a pet themed paper and it is super cute !! I have 12x12 paper, 6x6 pads, die cuts, layered stickers, and adhesive letters. It won't last long !!
* Odds'n'Ends ... new embossing powders, more stickles, Stamp'n'Bond Powder (haven't had a chance to try it yet ... I'll let you know !), Design Adhesives, lots of Glue Dots - large, small, vellum.
* A few more PROJECTS ...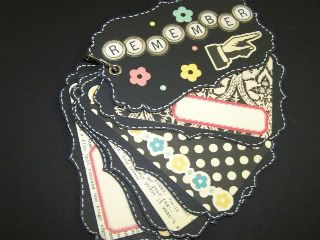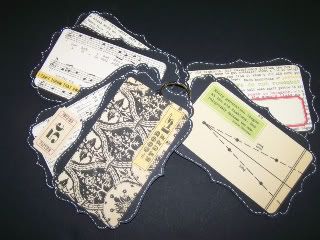 A quick little album using October Afternoon's Thrift Shop paper & stickers, a black Cosmo Cricket album, and a gel pen.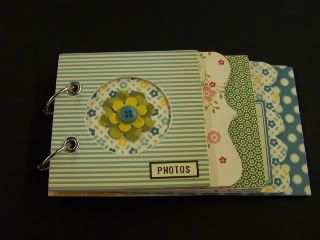 A great new album by Doodlebug. The waterfall design and varying page shapes make it really fun and interesting. I used Thrift Shop again along with the matching journalling cards and labels. Here are a few inside pages ...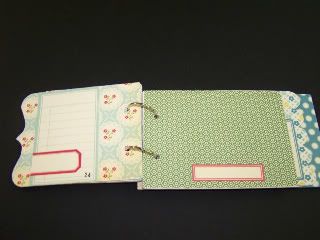 Lots of room for photos and journalling.
The last album is a "CHEAP & CHEERFUL" album. I made this using 2 12x12 sheets of the Bazill Double Thick paper. Just cut into 4 pieces each of 6x6 paper and then cover each side with patterned paper. The pages are stiff enough that you don't even need to make a separate cover ! I used October Afternoon's Fly A Kite paper and the co-ordinating tags and rubons.The cover letters are old letters that I had but wasn't crazy about ... so I sprayed them with Tattered Angles Glimmer Mist ... perfect !!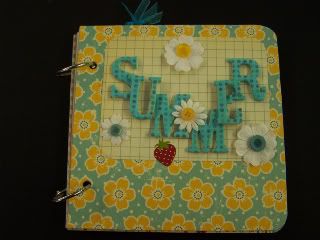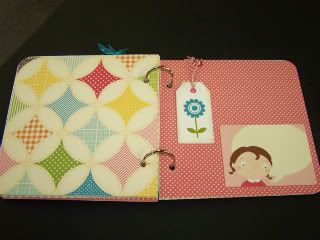 So ... I think that's all ... for now !!
This week is Cookies for C.A.P.S. ... $2 donation for a sweet treat . I think this week will be Chocolate Buttermilk Sheet Cake with Fudgy Icing and Golden Rhubarb Cream Custard cake with whipped cream. Come have a treat & help those cats & dogs !!
See you !!!
Made you read all the way down here to see who won May's challenge !!Anyway, the paper projects were all lovely. The layout was so fresh & springy. The sliding flower was really innovative. But the winner is : LAURA H. Her card was so cute & fun ... who wouldn't love getting that card ??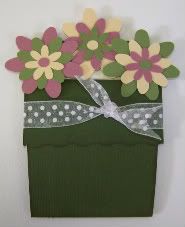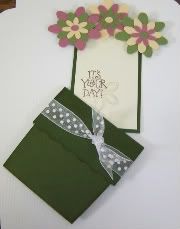 And for jewelry,... AMAZING pieces !! And the winner is TRACY P. Her necklace is an amazing piece of work ... a garland of flowers.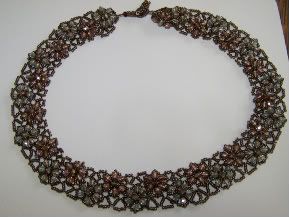 CONGRATULATIONS !! Watch for the next challenge next week !! Thanks for participating & you can pick up your entries next week.