Hi everyone !!
Blogger has changed their format ... let's see how I make out with this post !! I am not much of an eager "changer" !! (
OOOOH ... but I see I can "strike out" words now ... always wanted to be able to do that !!)
There are lots of photos this week ... so I apologize if you are on dial up ... I was going to post some pictures from my almost complete work space at home but will wait til next week (or whenever there are fewer photos). And that leads me to this ... CARD KITS ARE BACK !!! (yay ... I am so happy to be back in that groove !!)
So let's see what's new !
BEADS
:
* Stainless steel wire. This is exciting because :
1. it never changes colour.
2. it is great for people with allergies.
3. it comes in round, half round, and square as well as many sizes.
4. it has a bit of an industrial or vintage colour.
* BULK crimp TUBES. In the past, I could only get the small packs from Beadalon. Now I have bags of 1000 for only $12.99 !!
* Antique Brass findings ... headpins, earwires, extenders, jump rings, etc.
JEWELRY KIT OF THE WEEK
...
I love these earrings , mainly because of the beads. They are Unicorn Beads. The beads are handmade from borosilicate glass and are gorgeous. They are almost luminous. So the kits this week include the Unicorn dice beads and all the other necessary supplies as well as a picture for $5. This
is
actually a bargain as the beads alone are $4.50 !! But when they are gone, they are gone ! I will not be stocking them as the price has increased significantly.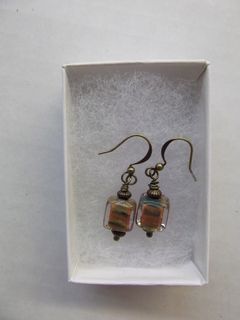 PAPER
:
*
Prima
...
... lovely chipboard embellishements. I used them in the card kits and love them ! You can buy packages of them for $5.99 or buy individual pieces ... whichever you choose !
gorgeous butterflies. ... mini stamps. Only $2.29 pkg. I think these little stamps are great ! Look at the beautiful ship as well as all the other designs.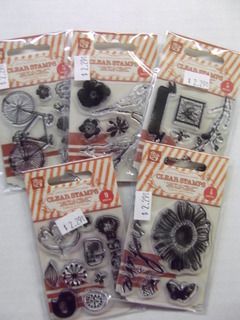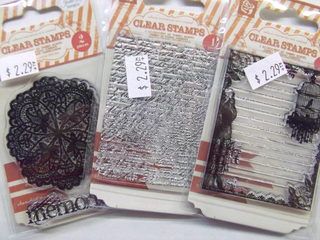 * more stamps from Unity Stamp Company ( love the sheep & monkey !!), Imaginisce minis, Ranger Dylusions from artist Diane Reaveley ( I love these stamps and can just imagine them coloured in or paper pieced !!)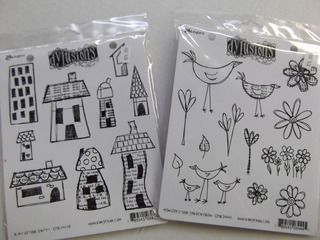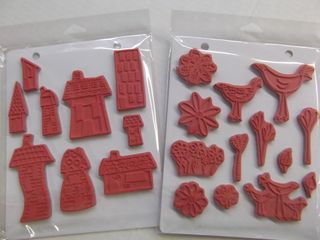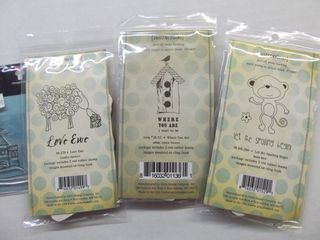 * more HoneyPOP honeycomb paper in rainbow (sold out last week !) as well as magenta.
* more Smash accessories
* more hand dyed crinkle ribbon. I did some in pinks & roses.
* Words to the Rescue stamps ... perfect for Birthday cards & Sympathy cards ... and check out those beautiful Prima butterflies !!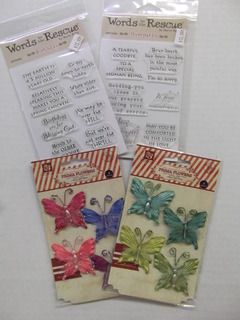 * and I found a few card kits from past weeks when I was going through boxes ... so check the green basket in the first room.
Here are a few samples I made this week ...
- using She Art by Christi Tomlinson for Pink Paislee ... I used the 6x6 paper, rubons, and the diecuts to make some really quick cards !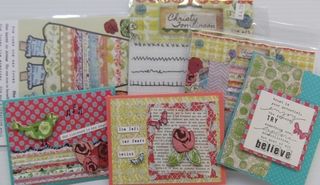 - using the new Inkadinkado Stamps ... peacock done in chalk inks and also embellished with Stickles as wellas the leaf stamp as a background using chalk inks on one and Versamark Watermark ink on the other for a tone on tone look ...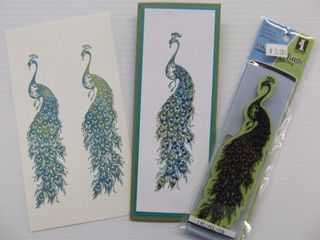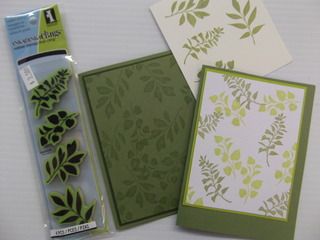 CARD KIT OF THE WEEK
!!
This week's card kit is all about adding collage pieces and embellishments. Sometimes a little "somethin' somethin' " just adds so much ! The kit uses paper from Graphic 45
Little Darlings
and Pink Paislee
London Market
as well as embellishments from Prima, Maya Road, and Pink Paislee. You get the supplies and instructions, precut & ready to assembled, for all three cards for $5.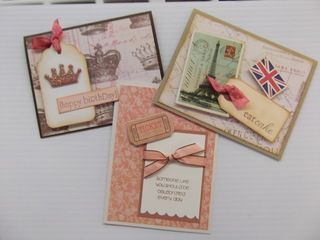 So there is something for everyone ... hopefully ! Hope to see you all !!