Hello everyone !!
Well it's been another busy busy week ... and that sure makes time fly !! Hard to believe it will be December next week .
PAPER :
I spent Sunday unpacking boxes - 6 of them !! - and I felt like a kid at Christmas. I oohed and aahed, I squealed, I was thrilled at what was in those boxes !! Some of it will have to wait a few weeks - there is NO ROOM !!! But some of it was Christmas paper. Last week I said that there would be no more holiday paper BUT ... I was wrong !!! I completely forgot about the 2 lines that came in last week. SO I now have We R Memory Keepers "White Christmas" and Melissa Francis "Home for the Holidays". Both lines are really cute ... WRMK includes some really cute tags and the MF line has stickers, resin trees, candy canes, tiny little tags in envelopes, and great rub ons.
I also unpacked TONS of Sizzix and Cuttlebug ... and then yesterday I cut & embossed like a mad woman !! I have samples of 30+ embossing plates and cutting dies ... come in and see what they look like !!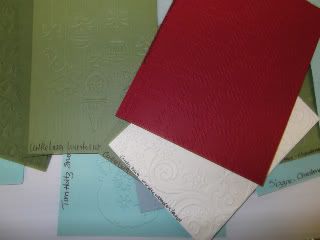 I have also decided to open up some of the multi packs of plates and sell them individually. So buy just one if you want or buy the pack for an even better price. And to sweeten the deal, THIS WEEK ONLY, the multi packs will be 20% off !!! But only for this week and only on the multi packs. Great new designs for the holidays ... great deal on price ... get 'em now !!
Also new ... MORE mini Christmas stamps, new Stickles, small bottles of Ranger Glossy accents ( an excellent glue !!), and Crackle, more ink pads, more Stickles, more embossing, ribbon, punches, and just MORE of so much !!
The Twelve Weeks of Christmas - Week 11
This week's kit is another card trio ... I can take a hint - I know what you all like best !!
The cards use Pink Paislee and JilliBean Soup papers.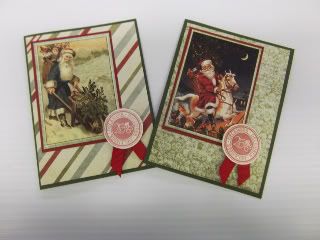 There is only one rectangular Santa card in the kit but it will have one of these two backgrounds ... just so you know ... !!
I have also made some samples using the Melissa Francis Christmas paper ...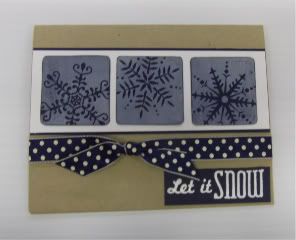 and another one using the wonderful snowflake cling stamps from Hero Arts. I really like their seasonal tree stamps too ... may be my next project !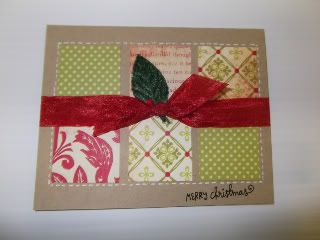 Here's a card using scraps of the Paperie Girls Christmas paper ... inspired by K Werner Design Blog.
** I have more of the Challenge kits. And I hope to have about 2o more Holiday Organizer kits available ... let me know if you want one !
BEADS :
Today I unpack beads. I have a whole huge bag of strands of 8mm round glass beads in gorgeous colours. There are strands of beautiful glass beads from India for only $1.99 ... semi precious beads, white heart beads, lots of new bead caps, new elastic cords, more bookmarks, ... just more !! And work continues on re-arranging and re-organizing the beads & findings to make everything neat, orderly, and easy to find !! It's going to be great !!
( And those VERY popular TUBE beads for the bracelets should be here next week ... FINALLY !!!)
Well, I guess that's all for now ... I need to get unpacking & pricing ... hope to see you all !!
P.S. Thursday & Friday will be Cookies for C.A.P.S. ... the last for this year ! Also I have CAPS calendars here for sale - just $10. They make a great gift for animal lovers !!