Wow, so much has come in this past week ... where to start ???
... oooh ... here comes another box of beads too ... YIKES !! Much unpacking to do !
BEADS ...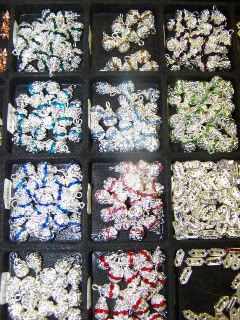 * Crystal studded silver drops ... now available in 12 colours ... siam, dk siam/garnet, amethyst, emerald, clear, peridot, sapphire, light sapphire, rose, lt aqua, dark aqua, topaz. I believe they are all the crystal birthstone colours. They make stunning earrings !!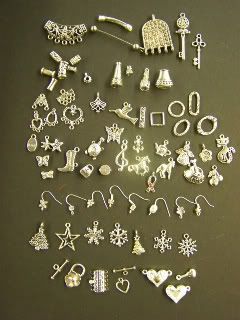 * Metal ... new charms, Christmas charms, toggles, magnetic clasps, tubes, cones - large & small, multi strand clasps, bead frames, rings, oval loops, square frames, end pieces, chandelier earring parts, fancy earring hooks, metal pendant pieces, bead pins for pendants, more ...
The "Bead Pin Pendant" is really fun ... it is a long pin with a ball on each end. One ball twists of so you can add beads, then screw the end back on. Add it to a chain and you have a pendant made up of your favourite beads. AND, it can easily be changed !! Fun way to show off a collection of special beads !!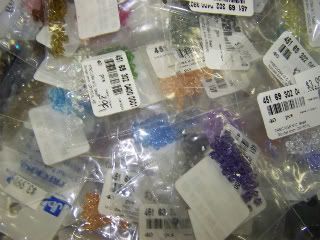 Don't forget the Preciosa Crystal special that is on ... bags of 40 4mm bicones are $3.99 and , if you buy 5, you'll get another free !! Great deal for all those beautiful pieces you want to make for Christmas gifts !!
PAPER ...
OCTOBER AFTERNOON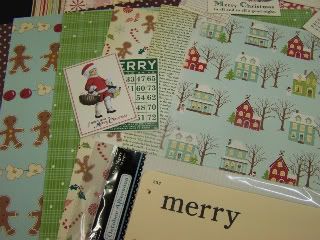 oooh, this is so nice ... I have the entire collection of VERY MERRY. It is really cute and comfy cozy homey. It will make you think of childhood Christmases. The paper is 2 sided and is only $1 per sheet. The designs include music, snowflakes, candies, gingerbread mean, the text of "The Night Before Christmas" , and beautiful snowy houses. There are also LOTS of accessories to use with it.
** large adhesive letters, adhesive shape stickers, adhesive labels, adhesive words & tags, adhesive mini letters ( black on teal for a real vintage feel), cards in 9 pks or individually (BINGO cards with SANTA or MERRY, children's' book illustrations, Santa's lists, recipe cards, and old fashioned Christmas cards) , and FLASHCARD BOOKS. These are great - 10 preprinted pages and 2 covers along with a ring. The pages are preprinted with words ... merry, cookies, tree, tinsel ... etc ... You will love this line !!
I also have some other October Afternoon product lines ...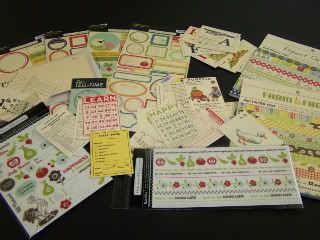 ** FARM FRESH ... 8x8 paper pad, word stickers, label stickers, cards, rub ons ( great for recipe books !!), and Flashcard Books ( with words like " grow, simple, family, good ...)
** REPORT CARD ... 8x8 paper pads, word and label stickers*, cards.
** ALPHABET CARDS ... each card has a letter on it and a word that begins with that letter as well as a sentence using the word . The illustrations are in the style of vintage children's books.
* I love using Label Stickers for journaling spots in mini albums.
WINTER FUN by Stamping Station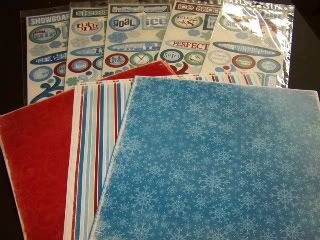 This is a fun paper line in pretty reds & blues. The paper itself is glossy and thick. There are 3 designs ... Red Swirl, Dark Blue Snowflake, Stripes. There is also a series of stickers that co-ordinate . Hockey, Ice Skating, Sledding, Snow Boarding, and Snow Fun. Great for winter layouts of your kids !
MAKING MEMORIES MISTLETOE RESTOCK ...I have SOME of this paper in stock again ... Green Glittered Music, Argyle, Mistletoe (this one is new !!), and the diecut Icon Stripe. The cardinal paper is completely sold out. Lucky you if you got some !!
...INKS ... Versa Fine mini Cubes in 5 colours, Versa Magic Dew Droop chalk inks, more
Distress Inks in Pine Needles and Broken China, Ink Potion No.9 blending
solution, more Walnut Ink Sprays in 6 more colours as well as Stamp Cleaner
and Stamp Scrubbers
... STICKLES ... great colours for Christmas ...cherry ice, candy cane, copper, gold,
silver, holly, patina, diamond, eucalyptus, waterfall, ruby slippers, fired brick,
coming next week ... Christmas Red, crystal, icicle, stardust, rock candy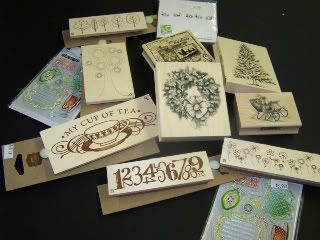 ... STAMPS ... Inkadinkadoo : Christmas Collage, Winter Pine, Wreath, Sleigh (all wood
mounted) , Basic Grey : Cup of Tea , Unity Stamp Company (wood mounted) :
Flowers, Giggle Trees, Trees in a Row, Numbers, My Cup of Tea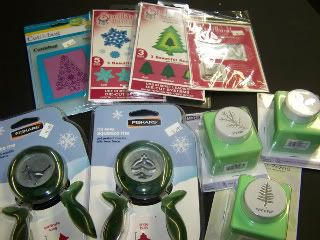 ... PUNCHES ... fern, pine, holly by McGill and cardinal and Christmas bulb by Fiskars
...Nestabilities ...Ssnowflakes, Christmas Trees, Embossing plate - Impressabilities Flourish
...Cuttlebug ... Lace Tree folder
... Kaiser Craft ... Birthday Card Rub ons, Thank You Card Rub ons, as well as other rub ons.
... odds'n'ends ... Memory Glass 1x1 and 2x2 for Christmas tree ornaments, small papier mache boxes ready to be covered and embellished, beautiful felt angels from Hero Arts, and Bazzill boxes of 45 cards and matching envelopes .... folded and ready to be decorated ... only $18.99 ... that's less than 43 cents per card AND envelope !!
***********************************************************************************
After looking after a stray mother cat & her kittens this summer, then finding them all homes ... the last one with us ... I have been thinking a lot about CAPS and other groups that do so much for these little creatures. I wanted to find a way to help ... but how ? I don't like donation cans or pledge cards ... I don't like to ask for money ... BUT I do like to bake !! So one week a month, here at the store, I will have big fat yummy cookies or cupcakes or something delicious , all nicely packaged up, for sale for a toonie donation to CAPS or another posted charity. All the money from the treats will go to them to help them out with their good work.What do you think ?