Hi everyone !!
Well it has been a busy and loooooong month !! But I am starting to see the "fruits of my labours" ... and no I don't mean the bruises, cuts, hives, and bumps I seem to have accumulated !!! I am a bad mover and it seems every shelf I move, every box I carry , I end up with a bruise, a smashed knuckle, whatever !! Klutz !! But the changes are now starting to be visible and I am thrilled !!
So here is a quick peek and a preview of what is to come.
All the patterned paper is now in the first room ... cardstock will soon be moved in there too. Here are the racks ... waiting for NEW paper ! Yes, over 150 new papers will be put in today & tonight. I am also hoping to get the accessories out as well but I am not sure .. we'll see !!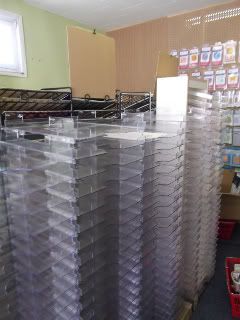 Stamps ... new Christmas stamps ... wood mounted & cling stamps. Really beautiful !! Adorable little $1.99 stamps from Inkadinkadoo ... dogs, deer, kittens, birds ... sooooo cute !!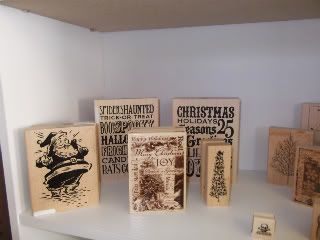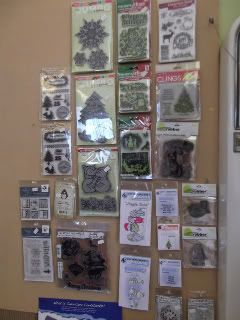 Sizzix & Cuttlebug ... now finally all on display !! The "Wall of Embossing & Die Cutting" !!! I am just waiting for a delivery this afternoon of peg hooks so I can finish !! And there are plenty of new ones too ... lots of embossing plates for Christmas !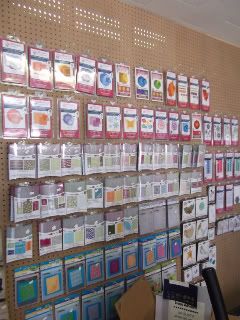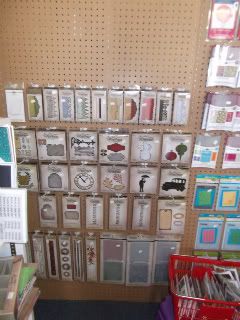 6x6 Paper Pads ... lots of new ones ... My Mind's Eye, Jilli Bean Soup, Simple Stories, and We R Memeory Keepers. Themes ? Christmas, baby, Hallowe'en, pets, everyday !!
The back area of the store will have a new enlarged section for Tim Holtz/7 Gypsies/Maya Road/ and Heidi Swapp. There will also be an adhesives section, a tool section, and then a lot of fun embellishments, available in pkgs and individually flea market style. There will also be a paint & ink section with all the products you need to GET MESSY !!!
And then the beads ... they will be rearranged with an area for all chain/cord/wire as well as ribbon. The bead area will be revamped & rearranged as well as added to ... I have BOXES of beads & findings to get packaged and put out. The crystal Christmas earrings & pendants will soon be out for sale as well. All this should happen by the end of October !!!
But ... the one thing I could not squeeze in this week was a kit ... there was no time. Next week I will still have more renovating to do (it's a bit never ending now that I have started!!) but I will have a day to make kits - so back on schedule next week !! And I hope to be able to come up with another workshop soon ...
But in the meantime, drop in to see ALL THE NEW product !!
*** Just unpacked Simple Stories "25 Days of Christmas" ... it is amazing !!! You will wan tthis paper ... in a bad way !! (I am trying so hard not to take it all home ...lol!!)