Hi everyone !!
Well the week has finally arrived !! This Friday is the party here at the store. I am busy busy busy getting things ready !
So let's see what's new, shall we ?
KIT OF THE WEEK :
Valentines !! And before I get the comment "I hate Valentine's Day" (I hear that a lot actually) .... Valentine's doesn't have to be all about big romantic love . I think it's a great time to tell family & friends that you care. Now, if you give a big frou frou valentine to the garbage man, he may get the wrong idea but neighbours , friends, and family would love a nice little card or a bag of fun candies !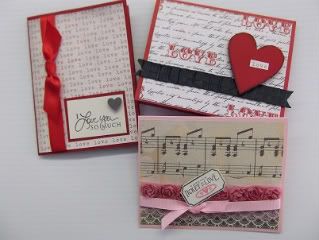 So here is this week's kit ... it is made using Valentine paper from My Mind's Eye, Echo Park, and
lily bee.
You get all the supplies - precut, prescored & folded, ready to go - for all 3 cards for $5.
I also have some kits from last year that are for giving treats. They too are $5.
PAPER :
* Valentine paper :
lily bee
, Echo Park, and My Mind's Eye ... all $1 sheet (going fast !!) . There are also nice packages form My Mind's Eye as well as some cute index cards from
lily bee.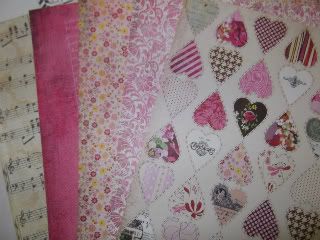 *
Carolina Breeze from Teresa Collins : very pretty grey, white, yellow, and charcoal. And if you know TC's paper, you know it is super heavy and great quality. Actually it is heavy enough to use as mini album pages on it's own.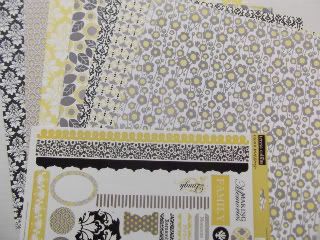 * Maya Road kraft owls & calendars, sweet button pins, wonderful ecru vintage style crochet trims.
* lots of new embellishments - valentine's, winter, matching the paper lines that are in stock ... all fun !!
* stamps from Flourishes, Kaiser Craft, CC Designs, Art Impressions, Penny Black
** Just added : Basic Grey "Picadilly" and "Little Black Dress"
BEADS :
* lots & lots of new rattail ... gorgeous colours !! Colours like espresso, strawberry, ... You'll need it for the new ...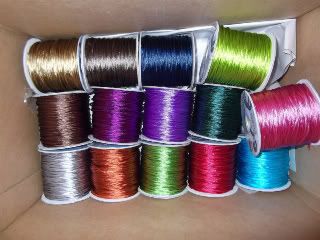 * KUMIHIMO braiding ! This is a Japanese braiding technique that is really really easy !! I am adding a link to a YouTube video - you'll be amazed at how easy it is. It works really well with rattail cord. The kits even come with some to use. I have kits for $3.99 and the tools themselves for $2.99. Inexpensive to start !! I hope to have a few samples on Friday and be able to show you how simple it is.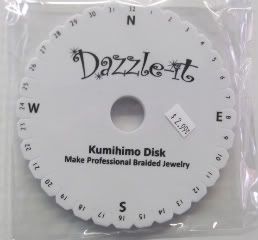 (Here's an update ... my very first Kumihimo braind ... took 10 to 15 minutes and was super easy. I love it !!)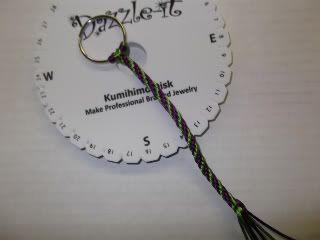 * more semi precious beads ... 6mm round green breciated jasper, dragon's blood, and carnelian as well as larger pieces of other stones.
* LOTS of strands of 6mm fire polished for only $1.99 each. these are great for the "urban wrap" bracelets. I will add a link for that too !! You can also see how these are made on Friday.
* wire wrapped rings ... make one on Friday for just $2 !!! I'm hooked on these !!
And here they are on the wrinkly hand ...lol !!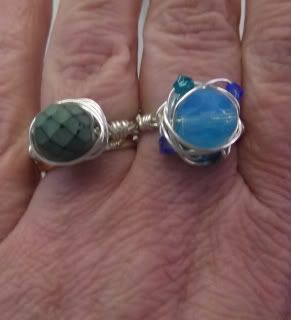 * more feathers
* restocked on glues .. Goop and others !!
* some nice storage containers.
PARTY :
* all day Friday
* I will have someone (Crystal !) here to help from 11ish on , helping with the wire rings and demos.
* cake
* food
* fun
* laughter
* prizes
* sales
* gifts with purchase
It's going to be fun !!!! Please come !!!