Hi everyone !
This has been a busy week , wow. Lots of boxes to unpack, kits to make, turkeys (ick ...lol) , and just a never ending list of catch ups. Make life interesting !!
So here goes ... let's see what's new !!
PAPER :
I made a mini album with it ... it just was begging to be made into a treasured little album to share someone's early childhood birthday party. It would look great with current pictures or maybe black & whites from 'back in the day' ! I plan to make this album into a kit - just waiting for more of the albums to come in.
* new PENNY BLACK stamps
* MAYA ROAD : mask sets (butterflies) - great for inking over, pearl butterfly pins, brown stacked pearl pins, kraft flag pins, 3" box & coaster album sets.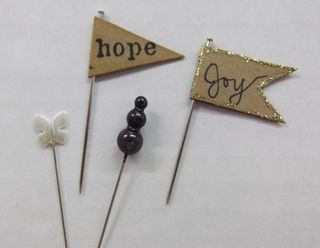 Look at those pins ! The kraft pins are great ... I stamped one and then wrote on one and added Stickles. I am sure that the butterflies could be coloured with Copics or alcohol inks ... I'm going to try it !
* Canvas Corp GREETING CARDS ... 50 5x7 cards in kraft + envelopes for $11.99
* Tsukineko SHEET METAL pieces ... postcard size & dog tags ... these can be run through your Cuttlebug or other embossing machine in REGULAR folders ... post cards .75 and dog tags .35 ... WOW !! Bargain !! They would make great embellishments or jewelry. The post cards could be book covers. And I am sure they can easily be cut with heavy duty scissors ... oh the possibilities !!
* Sizzix Textured Impressions and Texture Fades ... Tim Holtz Book Covers plates, Birds & Garden Gate sets, Flourish & Postcard, Tim Holtz Woodgrain & Brick
PAPER KIT OF THE WEEK :
This week's card kit is perfect for kids ... especially boys ! Aliens, monkeys, and rockets ! You get all the supplies - precut, prescored, pre-stamped - for all 3 cards for $5. All you have to do is colour a bit ( if you want) , trim out a few pieces, and adhere .
I finished bagging these kits up at 1am last night ... but because I like you all so much, I decided to wait to do the instructions in the morning. lol. Can you imagine what they might have been like otherwise ??
BEADS :
* Quick Grip Glue *NEW*
* Twin Hole Beads in beautiful colours !
* Feather end crimps
* new chain in silver plated
* new colourful hemp
* Soft Flex craft wire
* great new colours in wire
* Swarovski rose peach & jade pearls
* 7 new 6/0 seed beads ... just need to get them bottled up !
* lots of new Delicas
* also the Tsukineko Metal Sheets pictured above ... RESTOCKED :
* crimping pliers
* #26 and #28 wire for the new wire wrappers
* more Wire Wrappers
* Dandy line ... and with a price DECREASE !! Was $9.99 now $6.99.
* Baltic Amber
* more coloured wire
* wire guards
* various earwires
* Swarovski lavendar & mauve pearls
* needle tip hypo cement
* more ORI chinese crystals
BEADING KIT OF THE WEEK :
1. Memory wire bracelet kits ... Mermaid Mist or Peach Raspberry Cobbler ...$6.99 includes all the beads you need & the memory wire. This is a great starter project if you've never beaded before !!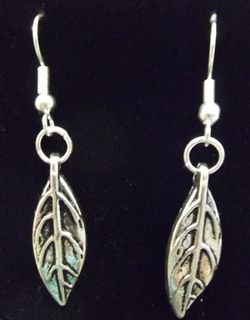 2. Silver Leaf earrings :
Super simple !! $1.50 will get you a bag with all the supplies for a pair !
I have been remaking some of the sold out kits so there are now more of the Crystal & Glass Rectangle Bracelet & Earrings from a few weeks ago, one more of the Purple & Olive bracelet from last week, and more of the various earring kits.