Hi everyone !!
This is a fun week !!
This week will be our first "Try-It-Saturday" !! I am hoping lots of you come out and give the products a try. The Kit of the Week is set up to use the product, or there are instructions provided to do it at home. But why not come & use my stuff ?!! Try some new things !! Just pick up your kit of the week or comment that you want one saved. The kit is $5 and includes all the supplies for 2 cards as well as 2 yards of ribbon to be dyed and a fabric leaf. You can complete all of them here using Tim Holtz Distress Inks and Tattered Angels Glimmer Mist. I'll have lots of colours to try and some fun tools to use. I will have extra card supplies available for $2 per card if you want to do more. Or if you want to bring a friend !! Hope to see you !!
PAPER : In honour of the Royal Wedding, I have all things London !! 7 Gypsies paper and accessories from their Lille, Camden, and Paddington lines.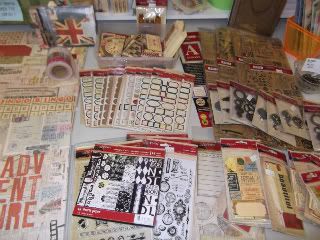 There is paper, apothecary bottles & labels, metal jewelry pieces, collage tissue, stickers, tags, and various interesting pieces. Really fun stuff !!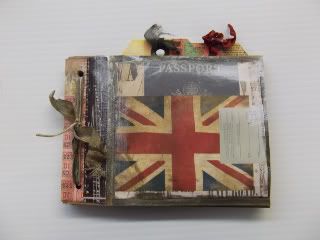 I made a really quick little paper bag album with some of it ... it's still a work in progress but I have a few photos. It was really fun to do a project that was MESSY !! Lots of ink and paint. Tape. Collage bits. I really enjoyed it and plan to add more !!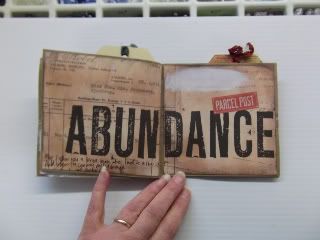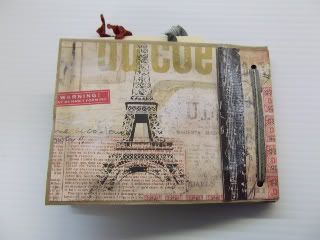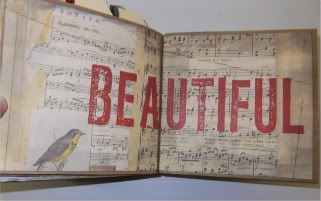 BEADS: more beads have been unpacked. Kyanite earring kits. Also, check out the pieces from 7 Gypsies in the scrapbooking section ... there are many different jewelry elements - perfect for steam punk style jewelry.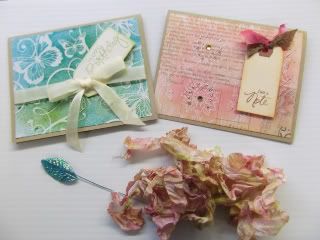 Kit of The Week : This is the kit. You can still complete it at home using a stamp pad and the sponge included in the kit. The kit makes 2 cards and 2 yards of ribbon as well as a fabric leaf. The cards use Ink Resist paper form Pink Paislee and Hot Off The Press. The designs appear like magic !!
Bead Kit of the Week : This week I have a pair of Kyanite earrings. Kyanite is a beautiful blue silicate stone from Brazil. Really pretty. And quite pricey ... so I whined about the price until I got a great deal on a strand ... (shameless) ... and decided to share the deal with you. Each stone has a suggested price of $4 but I have all the materials for the pair of earrings for $5 ... that includes the kyanite, hooks, headpins, spacers, and crystals. A great deal !! I have a limited number of the stones so get them now if you like them !!
So ... in closing ... I hope to see you pop in for a "Try" on Saturday. It should be fun !! Stop in anytime this week though ... love to see you !!