YIKES !! It's hard to believe that it is almost the end of October - where did it go ??
This week the post will be QUICK (you've heard that too often lately !!) because I would rather get more STUFF unpacked !! So here's a quick overview ...
BEADS
: The crystal tree kits are ready !!! I have Erinite, Emerald, Vitrail, Peridot, and Fern ( a new colour !!). I think you will really like the Fern trees - it is just a really nice green. I have tree earrings and pendants. I am also picking up little crystal snowmen tonight . They are also super cute. Still to come are : pearl snowmen (small & large), clear and clear AB trees, funky trees, and beautiful angels.
Update : the pearl snowmen are also ready !!!
They will be done in the next week or two. There will be lots to choose from but they also sell quickly so get in soon or call !! (I just placed two more orders for more parts so I will have more materials to replenish the kits with !!) And here's a piece of good news ... the prices are the same as last year !! And , actually, if you buy 10 or more, I'll give you 10% off !! Just remind me !!
I have bookmarks in stock again as well as wire & Wildfire in green. There is lots more to come too ... just need to get it unpacked !!
PAPER
:
* TONS of new Christmas stamps ... many of them under $3 ... and oh, so cute !!
* INCHIE stamps by Inkadinkadoo ... these are a great deal ... 9 little stamps and a stamp block for $6.99. Try stamping 3 designs, cutting the squares out , and mounting them on a card. Fab !
* Fancy Pants "Happy Together" paper & accessories
* Basic Grey "Jovial" Christmas Paper & Accessories
* lots of new impression plates - Sizzix, Cuttlebug, Tim Holtz ...
* adhesives, Glimmer Mists, Glim Glam, Inks, punches, so much ... and more as I unpack !!
Week 8 - The Twelve Weeks of Christmas

Another card kit ... $5 for 3 cards.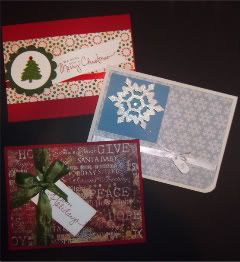 Challenge
... The winner is Annette S. Congratulations !!! Come & collect your gift certificate !!
New challenge in 2 weeks !
This week is
Cookies for C.A.P.S
... not sure but I think there may be bags of chocolate brickle and something else ... need to decide tonight !!!
So have a happy week, stop in for your kits, and have a Happy Hallowe'en !!