Hello !
NEWS!! I will be opening at 10:30am on Thursday instead of 10am because of an appointment. Sorry for the inconvenience but I couldn't get it at any other time. I will be back as quickly as possible but definitely by 10:30.
Let's get right to it !
KIT :
This week's kit is "Manly Cards" ... I have a lot of people asking for cards for dads, brothers, sons, husbands , ... well, men. So this week I have 3 cards that will fill that bill but I also think they would be fine for anyone. The kit includes all the supplies for the 3 cards for $5.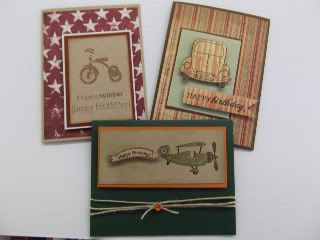 PAPER :
If you are wishing spring was here (not me !! I love this weather !) I have some floral paper that is just bursting with spring flavour. They are 12x12 and 6x6 pads from K&Co and they are FABULOUS !! There is also a really nice selection of accessories ... lots more flowers, birds, plants ... lovely !!
ALBUMS :
Piles of albums ... 12x12, 8x8, 6x6, ... all colours and finishes.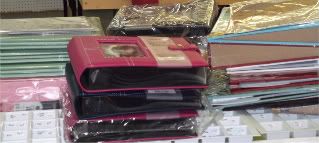 BEADS :
... and I am waiting for my order. I have a big order of beads on its way ... hopefully I can update you soon on Facebook !! But I have a great selection of new vintage looking beads and wonderful large beads in stock . Coming soon ... new fancy chain !!!
That's just a quick update ... there are many new things to look at. Drop in !!
If you want a kit saved, leave a comment here or on the Facebook page. If you aren't on the Facebook page, join up today !! It's just Classic Hobbies.
Have a great week !!!