When you read this, it will be March. Hard to believe that we have roared through 2 months already.
Okay ... let's see what's new & exciting !
BEADS :
Bead fever has hit here at Classic Hobbies ! The wrapped ring demo and You Tube videos have set off a storm of creativity. Every day you bring in or post pictures of your amazing creations ... I am in awe !!!
This week I have made an asymmetrical necklace ... I love this kind of necklace.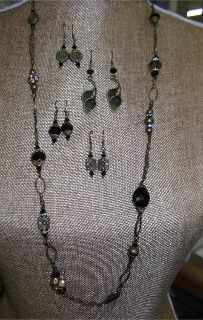 It has no pattern , just common colours and textures. Every section can be different ... makes the eye really explore !! I used antique brass chain and charms combined with jet and smoke crystals. I love this combination - it feels very vintage. I decided to make a pair of earrings to go with it but couldn't stop at one pair... so there are 4 possibilities !! Keep in mind that many of the metal beads used for the earrings come in other metals ( antique silver, gunmetal, antique copper) so there are limitless colour combinations that you could make !!
If you want to duplicate any of these, I will have supplies bagged up for the earrings as well as the necklace.
If you are interested in making the necklace, let me know. I can do up a bag of supplies and a sheet of pictures ... $30.
I have been ordering some new & very exciting products in 'beadworld' ... resin is one of those items. This is such a great product that can combine your love of paper with jewelry. Soon ....
PAPER :
The Teresa Collins paper was very popular last week and I have more this week. I also still have copies of the download instructions for the one page mini album. Buy a sheet of her paper, get the instructions, and whip one up !!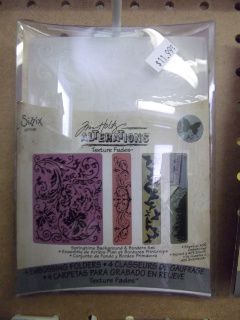 There are new stamps as well as new Sizzix dies and embossing folders... Tim Holtz and Easter bunnies !!
I have some beautiful new We R Memory Keepers leather 8 1/2 by 11 albums ... a nice size to scrap !
I am working on a Teresa Collins Birthday book - I hope to have it ready by mid month.
Guess what I just pre-ordered ?? Glitter Ritz !!! I have been trying to get it but have had trouble with suppliers. Now one of my regular companies is selling it so I will be stocking it. When it arrives, I will set up a make'n'take so you can try a few different techniques !!
KITS :
Paper kits will be on hold for a few weeks ... we have been renovating and making a new work room for me at home for the last few months and it has finally reached critical mass - I can no longer find anything !!! So bear with me - I'll be back on track (and hopefully in my new space) in a few weeks and back in the kit business !!
Earring kits ...
Materials + picture ... $2.00
Materials + picture ... $3.50
Materials + picture ... $2.50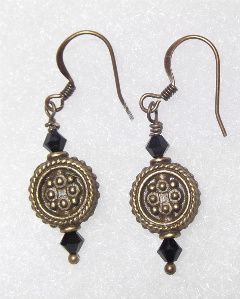 Materials + picture ... $2.50
And, because the response to the in-store demos was so great, I am working on more. Embossing, metal stamping, and more ... coming soon !!