Last week was Cupcake Week and ... it didn't really go as planned ! It may have seemed okay to you but I wanted it to be spectacular ... and it didn't quite happen that way !! I started treatment for an ongoing problem with my hands and everything changed !! I had quite a severe allergic reaction and was really sick ... so my wonderful husband baked the cupcakes for me and helped me out. I didn't finished most of the projects I had planned, I totally lacked enthusiasm, and I wanted to claw my skin off ... so it didn't really end up being what I had hoped !! But *stuff* happens , doesn't it ?? Well today (Tuesday) I am finally feeling back on track and functioning like a human - that's pretty great !! Hopefully I can catch up a bit and get some things done !!
I still have some Valentine papers left, as well as the awesome cooking/domestic goddess type papers & accessories.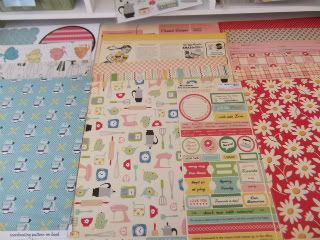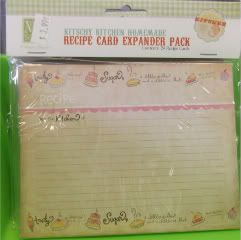 These papers are so fun - they would make great recipe books as well as cute cards & tags for food gifts. A parcel arrived today full of goodies so tomorrow I'll get unpacking !!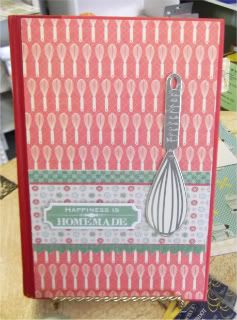 A recipe book made with the Yellow Bicycle "Savour".
There were lots of wonderful beads last week that I ... well, just plunked in a pile.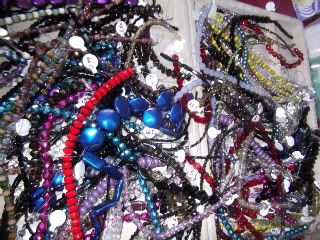 (sorry - it was the best I could do !!lol!) This week I will be filling a tray with some of the BIG beautiful beads that came in as well as all sorts of wonderful sparkly treasures. I'll sort the strands - what's left of them !! - and display them a little better. I may even get a sample done if time permits !
Update : 3 TRAYS of new beads as well as some beautiful new metal links in antique bronze & black ... check the spinner !!
The kit of the week is ready ... this week it's all about butterflies ! Three birthday cards, each one featuring butterflies ... who doesn't like a pretty butterfly ? There are 2 versions of the kit ... limited supplies for some of the designs. Choose Version A or Version B. All the supplies are included for the three cards for $5.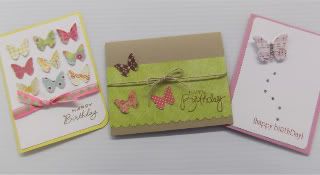 Version "A"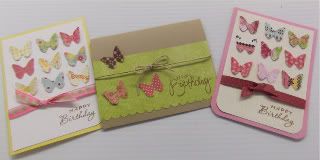 Version "B"