Hello !
Sunny days ahead ! That's the forecast ! That should put a little spring in everyone's step. Soooo ... what's new ??
Beads
: a new kit this week ! This bracelet is made with the beautiful new multi tone crystals for lots of bling !!! The kit includes the crystals, tubes, spacers, crimps, wire, magnetic clasps, crimp covers, instructions, and photos. $10 per kit.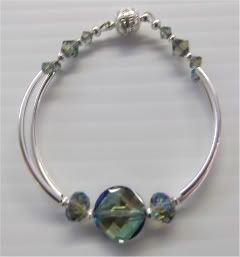 Magnetic clasps - restocked !!
Paper
:
Kit of the Week : This week's kit uses Creative Imaginations paper by Samantha Walker. The paper is fun - florals & butterflies. The cards are for birthdays although one only says "Wishing you a lovely day" ... so it could be for another occasion !! All the pieces are included - precut & pre-stamped - for 3 cards for $5. Let me know if you want a kit set aside !!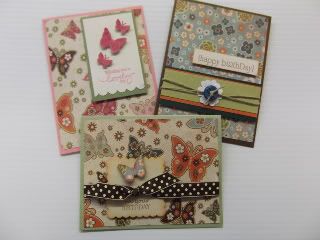 Lots of great new tools this week ... they will make your crafting so much easier !!
* Spellbinders - new !!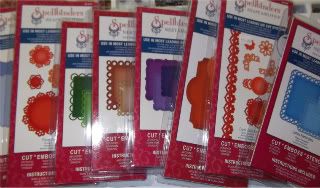 * Sizzix Cardmaking & Embossing Machine - this is just what you need if you already have some kind of electronic cutting machine and just want something to EMBOSS using folders from Sizzix and Cuttlebug. This cute little machine embosses but does not cut. But it is only $35.99 !!!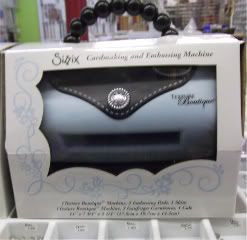 * Tombow Stamp Runner - a new glue system. It works as a glue runner but it also dispenses glue in spots. Both a glue stamper & runner. Awesome !!
* Strong Arm ... this is a mechanism used to make punching easier. You set your punch inside it, then use the handle for extra leverage ... great for those large stamps that are so hard to use !!!
* Zutter Dream Cuts - this machine cuts paper ... the same every time !! 27 different possible sizes can be cut, no batteries, self sharpening blades... and pink !!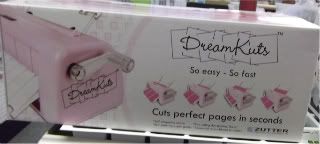 * Maya Road _ sewing machine albums !!