EDIT ... Just unpacked 17 brand new just released sets of embossing folders from Sizzix ... and they are cuter than cute !!! Birds, flowers, swirls ... and more !!
This month has flown by ... and I still haven't dug out all the sale items like I was planning to . So ! I just brought out more new product and kits ... next week maybe. LOL ! So here goes ... BEADS ... here's a new kit for this week. It is "Deep Blue Sea Bracelet" ... a mixture of crystals, cathedral beads, fire polished beads, rhinestone studded rondelles, and sparkly little spacers. I think it's quite pretty (if I do say so myself !!). The kit with all supplies is $8.50.
And I have more kits made like last weeks ... just slight variations. One kit is matte glass like last week - looks like sea glass - and the other kit is shiny glass - bright and summery. I will have more of the matte pink beads in next week if you prefer the original version.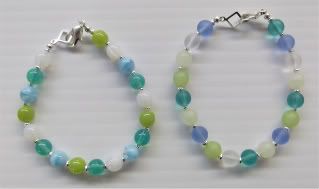 There will be a big order of beads arriving in the next few weeks as well as a visit from my semi-precious supplier ... exciting !! I also have 2 kits ... more coming ... of this older favourite. The Olive Green Bracelet and earrings set. $12 for all the supplies.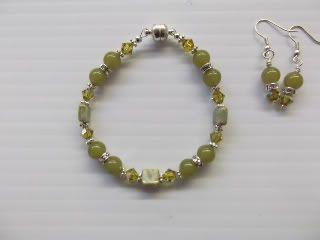 PAPER ... The card kit this week has something for all ages ! Airplanes & flowers, buttons & brads ! Get all the supplies for all 3 cards for $5.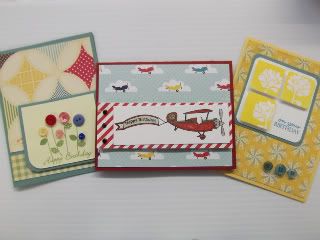 And what's new ? Well, * Graphic 45 ...
"Once Upon a Springtime"
... fairies & bunnies ... really cute !
*Panorama : sepia coloured paper with all modes of transportation ... everything from balloons to cars ... great for masculine projects.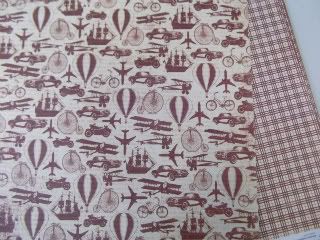 *WeR Memory Keepers :
"Peep"
Easter Bunny ... adorable pink bunnies with FLOCKED TAILS !! A bit pricier than most paper because of the flocking but so worth a sheet for Easter cards & layouts.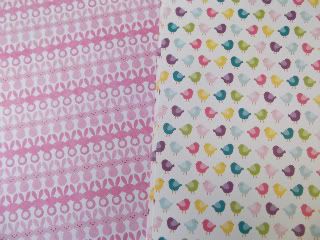 * Echo Park :
"Little Girl"
Betty Bird with cute little birds in happy colours ... great for spring. *My Mind's Eye :
Alphabet Soup
kits in boy and girl versions. Really cute ... animals and fun bright themes. Each kit is $9.99 and contains 9 sheets of double sided paper and a sheet of accessories. Great for kids !!
* Luminarte : Twinkling H2O ...shimmering watercolour sets ... apply with a brush or sponge to paper, clay, canvas, papier mache, chipboard, stone, wood ... even EASTER EGGS !!! Hmmm ... So ... that's what's on tap this week . Drop in and check it out ! See you soon !!