Hi out there !!
I have been madly unpacking beads and have made some headway ...
Here's a list ...
* crazy glass pendants - they'll make you laugh !! - frogs, turtles, penguins
* marbled glass beads in many colours
* acrylic "jade-like" beads. Really nice ... light too !
* acrylic polka dotted 50's style beads in red/white and black/white
* felted wool beads
* lots of new hemp
* new glass pendants
* headpins, eyepins, jumprings in antique bronze and pewter colour
* lots of new metal beads ... small spacer styles
* metal pendants & links ... add beads & you've got a masterpiece
* new premade chains
Now, I have to get this box done because I have another BIG order coming at the end of the week !!! So many beads ... so little time ...
And in paper ... not much new since last week but there are some beautiful papers, ribbons, and accessories here. And the new hemp that I unpacked in the bead order would be AMAZING for cardmakers & scrapbookers. It comes in several thicknesses and many, many colours. I plan to use it on my cards & tags ... and anything else I can think of !! Good prices too !
This week is the big trade show so there will be lots of new lines coming out soon ... Can't wait !!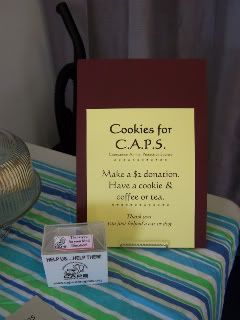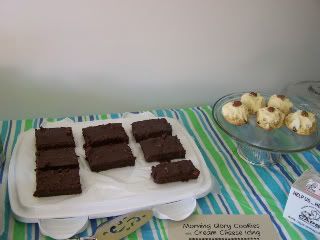 These are your choices this month ... Morning Glory Cookies with Cream Cheese Icing or Chocolate Buttermilk Sheet Cake with Fudgy Pecan Icing...
This week kicks off the Cookie that Cares campaign ... Cookies for C.A.P.S. ... come have a yummy cookie and coffee/tea for $2 and help out those people who work so hard helping all those cats & dogs who need homes, food, and love.