Hello everyone !!
This Friday is Canada Day and I will be closed ... which makes this a very short week ... and I say "thank goodness" as we just got back from a very intense weekend in Toronto going 20 hours a day at 100 miles an hour !! I am pooped !! But since it is such a short week, I'm not going to have a lot of new stuff out this week ... I'll wait til next week.
But I do have a kit ... Baby Cards !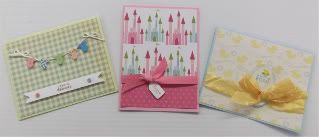 These cards are perfect for new little people and their parents. The princess castle card also has a Birthday tag so it can be a birthday card for a little girl as well. The other two cards would work for a baby of either gender. Once again, the kits contain all the materials needed to make all three cards for $5. Leave a comment here or on the Facebook page if you want kits saved. And remember, you can still have them set aside if you can't get in for a few weeks ... I just put them in my file box.
And speaking of cards ... I am thinking about doing a card workshop later in July using the Lawn Fawn stamps ...
you know, those super cute stamps that I love !! ...
I will have more details soon but please let me know if any of you would be interested !!
Anyway, that's all I've got for you this week ... I'll try to get some things unpacked and put out ... a few fresh items.
Have a happy Canada Day !!!