Wow, I love typing "OCTOBER". It is , hands down, my favourite month ... coloured leaves, pumpkins, apples, soups & stews, crisp air, my birthday, Thanksgiving, Hallowe'en ... simply the best !!
Lots of new things this week ... and a challenge !
BEADS:
* UNICORN BEADS ARE HERE !!!
These are the fabulous borosilicate beads made in California that seem to almost glow with an inner light. They are gorgeous. And , yes, they are a bit pricier than other beads ( not too bad though, ranging from .60-2.80 per bead) but they are show stoppers !! Buy just a few, add a few crystals, some other glass beads, and you have an amazing piece of jewelry !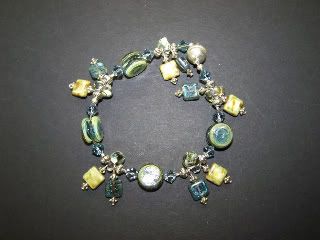 This is the bracelet I made last year with Unicorn yo-yos and drops. The photo doesn't really do it justice.
Here are a few examples of the new styles & colours.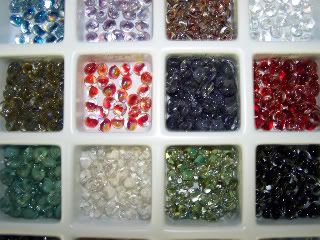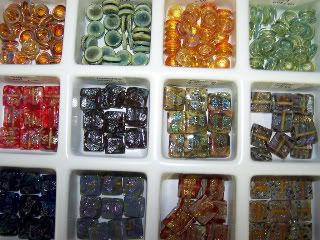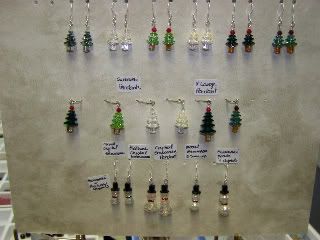 * SNOWMEN & TREE EARRINGS
I have many more Christmas Tree Earring & Pendant kits in even more colours. And, thank you for your patience ..., SNOWMAN EARRINGS in several styles and sizes including all crystal or a mix of pearl and crystals. I have quite a few but sold out in 2 days last week so you should probably hurry . ( or call or leave a comment with contact info ...)
PAPER :
* More new Christmas stock ...
Making Memories Mistletoe Series - I have more of this beautiful paper, acetate flocked 12x12 sheets, stickers, keys, rub-ons, journaling stickers, button flowers, masking tape, ... so much !!
And it is still on sale - if you buy 5 sheets of the paper, you can get 25% off all the accessories you buy. Great deal for Christmas projects !
I also have a few more things from the same company from their Spooky Alley Hallowe'en series - velvet acetate frames, metal Hallowe'en charms, stamps, clear tape.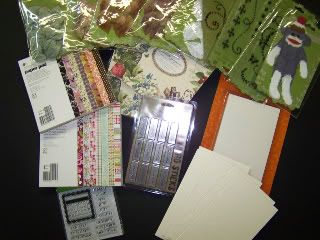 * Basic Grey - cute little 6x6 paper pads from "Eerie" and "Eskimo Kisses" as well as some rub-ons.By the way, the Basic Grey Bling-It are all just $2.50 each now.
* Tim Holtz - Word Sticks - wonderful word charms ... great for scrappers and beaders !!
* Webster's Pages - 6x6 paper pad from "Postcards from Paris" and "Sweet as Cherry Pie"
* Tattered Angels - Embossed Chipboards - Hallowe'en
* Prima - awesome leaves, flowers, pearl borders & swirls, and YES !! a SOCK MONKEY !! (If you know me, you know that one of those has already come home with me !!)
* American Crafts - D-Ring binders in 12x12, 6x6, and 8x8. These are great albums as you can easily add and remove pages as well as purchase photo-only pages to add.
* Maya Road - Bird Coaster books, restocked on the 5 ring Tab Books
* And the new Cosmo Cricket Christmas paper is still on sale. Buy 10 sheets at $1 each and get a sheet of Elements or Borders FREE !!!
So as you can see ... lots to look at !
Now for
THE CHALLENGE !!!
I seem to be NOT accomplishing very much these days so I have decided to challenge myself. For the month of October I am going to challenge myself to make SOMETHING everyday !! Big or small, card, tag, bracelet, scrapbook page, WHATEVER ... just SOMETHING EVERY DAY. That way I will get back in the CREATIVE GROOVE .. I can't wait. I will post photos of what I do and hope that you will join me. Challenge yourself and then leave comments on this blog to tell everyone how you are doing. maybe I can even get photos from some of you. It should be fun ... and productive !!