Hello !
Well here it is another week ... and there is a whole bunch more "stuff" to talk about !! I have spent the weekend and every night this week trying out all the new goodies ... great fun ! Tonight I hope to break out my Big Kick and the Tim Holtz dies.
Anyway, let's get to it !!
BEADS :
Lots of new charms ... great prices too ! Most are 75 cents and less. Let's see ... I have butterflies, square drops, ribbons, cherubs on hearts, strawberries, ladybugs, teddy bears, fire hydrants, cats, funky angels, sweet elephants, octopus, owls, heart drops, mama cat carrying her kitten, large crosses, swallows, word charms, pixies, more owls, sea horses, mushrooms (
wow ! the 70's are calling me ... owls and mushrooms !!)
, elephant heads, and more word tags. There are also metal beads in swirly ovals, and patterned flat rectangles and ovals. Also some great tubes ... finally the tubes I used on the memory wire with crystals to make the cuff bracelet ... some of you have been waiting for those ! And then I have a new type of charm ... they are words with two loops and would be used in a necklace ... really cute !
I also have more of the Chinese crystal ... 8mm and 10mm rondelles including some opaque colours that are beautiful and still sparkle ! More of the cubes and olive shapes as well.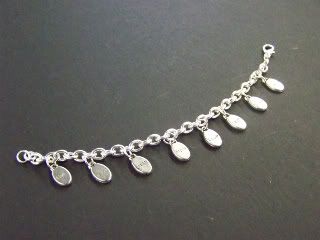 Here's a word charm bracelet to make... it is super simple but really nice. I call it "the Amy Bracelet" for my niece who came up with the idea. Smart isn't she ? Or, instead of word charms, why not try animal charms or any variety of charms? You could make any combination you like !!
Look around the store for little bins of discounted beads ... I am working on cleaning out the trays to make room for new beads and the last little bits are being MARKED DOWN !!
PAPER :
oh, prepare to fall in love !! October Afternoon's new lines are here and they are LOVELY !!! Each line is made up of double sided paper, stamps, flashcard books, wild cards, cardstock shape stickers, rub-ons, word and label stickers, journal cards (that would be cute on a ring as a little book !!), and 8x8 paper pads.
There is Thrift Shop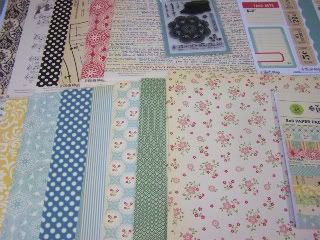 and Fly a Kite.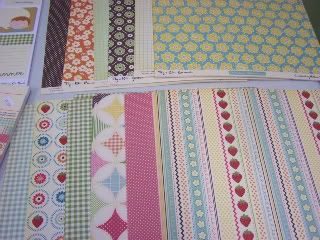 I made this coaster banner from Fly a Kite ... it just screams summer ! I also added diecuts from My Mind's Eye.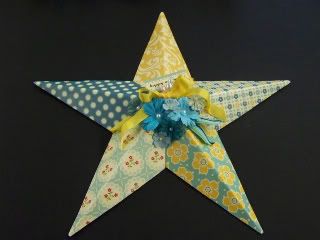 This star is made form the Thrift Shop papers ... simply Mod Podges onto a tin star ... I have a few of them left here at the store.

And these cards are also made from the Thrift Shop line as well as the great new little stamp sets I have ... more on those later !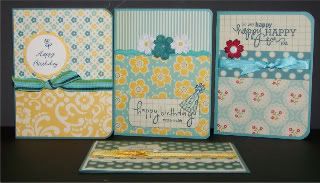 This is from the Thrift Shop line using some of the Maya Road mini sewing chipboard pieces and Stickles !!
All the paper is $1 sheet and it is too cute for words !!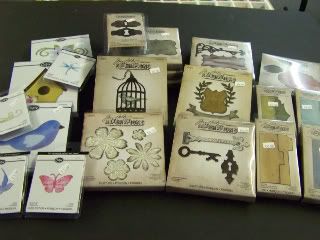 The Tim Holtz dies are here ... hopefully I'll have some samples for you this week - if not, you can count on next week !! I also have some more of his stamp sets as well as some more from Ali Edwards. You can also see the new Sizzix dies and sizzlets ... really great designs !
And speaking of new stamps ... I have a collection from Basic Grey that is FABULOUS !! Each set sells for just $2.75 and is made especially for making cards. I used some of them on the cards I made ... "Happy Birthday", "Congratulations" etc ... There are even Christmas sets. At that price, you'll want one of each !! And the other great new mini sets are from Technique Tuesday ... the script Happy Birthday is from one of the sets. I have only used a few of them but I plan to try some more this weekend. These sets are $3.99 and really useful !
Here is another sample for card makers ... Grad cards. I have the 2010 paper in stock as well as some stamps. Check out the super cute brads ... diplomas & grad caps !! The "Congratulations is from the Technique Tuesday set
(I believe it is a wedding set !
!) ... many uses for that one !!
SALE ... I have been bundling up packs of paper and accessories to clear out the racks for new paper ... great deals ... even half off !! Grab some while they are here !!
And just a final word about all the great entries in the challenge ... beautiful pieces everyone !! Thanks so much & I hope you'll all be back (and more !!) for this month's challenge !! Congratulations to the winners ... and congrats to all the rest of you too - you did a beautiful job !!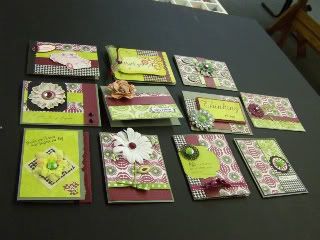 The card winner was Elaine ...bottom left corner.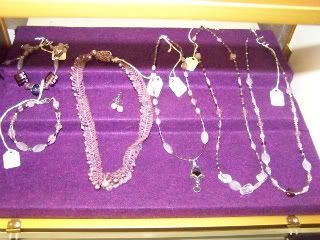 And the jewelry winner was Natalie W (last necklace on the right)... she did a great job using most of the beads and adding others to enhance the ones in the kit. The picture isn't great but the pieces are !!
And ... this is COOKIES FOR C.A.P.S. week so I will have baked treats & hot beverages for a $2 donation this week !! I'm thinking chocolate cake ...