Hi everyone !
( first things first ... no photos as I forgot the camera ...)
I do now !!!!
Another Thursday and there is more "STUFF".
I still haven't received my scrapbook parcels but there are no Purolator deliveries in the Valley today because of the snow ... maybe tomorrow ! But I do have a bunch of kits done up for those who like a whole bunch of co-ordinated product. You can make your own quick & easy Paper Bag Album ... I have 2 different style kits done up. One is vintage style using mostly Melissa Francis products ... pinks, creams, cocoas, soft greens. The other is bolder, more ethnic style design using Basic Grays beautiful Marrakesh ... blues, greens, corals... beautiful. Each kit comes with pre-folded, pre-punched bags and makes a 12 page book. Included are pre-cut papers to cover the pages as well as extra pieces to embellish with. Then comes the fun stuff !! Diecut shapes, tags, embossed cardstock, stamped pieces, flowers, ribbons, brads, clips ... sooooo much. Even the rings to put the finished album together with ! All you need is a glue stick and your photos & words. You don't even need a big block of time because everything is cut and co-ordinated for you !!! I would suggest an ink pad would be another good tool but that's optional !!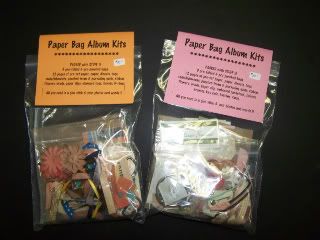 Here are the kits ... they are STUFFED with , well, STUFF !! They are $10 each and are going quickly !!Let me know if you want one saved !!
And for beads ... I put things out all week last week so there are plenty of new "sparklies" to tempt our "Inner Crows". I LOVE the Preciosa strands of 3mm and 6mm crystals ... gorgeous !!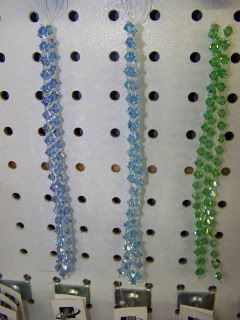 There are lots of new strands of beads ... many in that vintage style that is so popular right now. I have replenished the glass pearls section ... many are under $2 a strand ... what a deal !! The seed bead rack has been refilled ... finally ... I always drag my heels on that job !! And I will continue to put product out this week as I get it weighed and bagged.
So take advantage of the snowy weather ... stay cozy and warm and start a new project !!!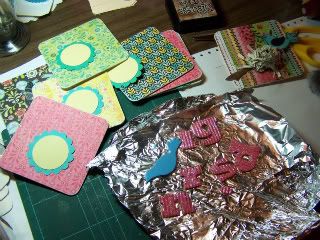 Here's a little something I am working on for next week ...
*******************************************************
C.A.P.S Update ... next week (25th) will be Treat Week again ... this time my niece will be baking the goodies ... decorated cupcakes ... "an assortment" she told me ... but she did say there would probably be puppy and kitten cupcakes in the mix !! How fun !! So come buy a cupcake, treat yourself and those who are special to you, AND support a good cause !
We are also building a pile of supplies here for C.A.P.S. ... let's see how big we can make the pile !! They need the following and you can drop any of it off here if you like ... paper towels, bleach, laundry detergent, dry or canned cat food, baby & crib blankets, dog toys and chews, disposable rubber gloves (size small), business envelopes & copier paper. If you have any of those things to get rid of or want to buy something to add to the pile, please do !!
Hope to see you this week !!! Have a good one !