Wow ! I can't believe it is already February ... but the calendar says it is so it must be !!
So what's new ?
BEADS ... I have a huge box to unpack ( they always seem to arrive Wednesday afternoon so I don't have enough time until the next week ... but I do have some done.)
* wire
* chain
* lots of glass pearls in 4mm, 6mm, 8mm, shapes
* round glass beads in 4mm, 6mm, 8mm
* FABULOUS round glass 8mm beads in the most beautiful vintage colours. I can just see them mixed with crystals and silver spacers ... mmmmmm ....
* metal spacers
PAPER ... nothing much right now but all the new release info is pouring in from the big CHA trade show. I have pre-ordered the entire collection ( 3 lines) from Pink Paislee ... it is AMAZING !! I also pre-ordered some of Cosmo Crickets new lines - Material Girl and Garden Variety. I should have some of the new 7 Gypsies products in the next few weeks. And I am just waiting for the pictures of all the new Tim Holtz products ... drool worthy I am sure !! He has a line of dies for Sixxix as well as all kinds of stamps, chipboard, papers, a book, and more ... can't wait !!!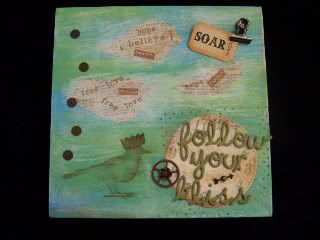 Here's a canvas I made this past week ... a lot of fun !! I used Claudine Helmuth paints as well as Glimmer Mists, Walnut Inks, Distress Inks, metal bits from Tim Holtz, and a bunch of stamps. I will soon have the canvases available for sale if you want to try one !!
And now on the Cookie Campaign for C.A.P.S. ... thanks to all those who bought a treat ... it went well even though two of the three days were absolute storm days. This month will be extra special as I have had a request from a "Guest Baker" !!! My niece has embarked on a cake/cupcake adventure and is making the cutest things. She has volunteered on her college break to bake for us ( Feb 25th) ... I can't wait to see what she does ... I am thinking kitten cupcakes ... maybe ... ( Her birthday cake this past week was an amazing garden full of handmade candy vegetables ... peas in pod, carrots, radishes, lettuce ... ADORABLE !!)
Anyway, hope to see you this week !!