HI !
This has been a busy week ... full of awesome stuff !! I spent Sunday & Monday unpacking boxes of paper & beads ... felt like Christmas !! Then Tuesday brought packages of ribbon and boxes of tags, boxes, and packaging. FUN !!
I spent Tuesday creating the next project in the Twelve Weeks of Christmas and then I measured, cut, folded, scored, stamped, and printed. Tonight I package !!!
Here is the Week 5 Project ... a handy dandy little Holiday Planner. This would be useful thrown in your purse or be a great little gift for friends. It is made with the new Fancy Pants "Traditions" paper.
(I am still working on the previous weeks kits for those who missed out ... probably later this week !!)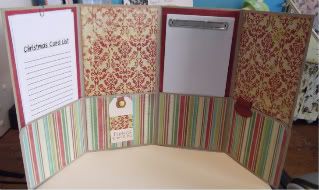 I have heard some great stories about the kits so far ... some people are buying (and making) all the cards and *voila* - their Christmas cards will be done for this year, no two the same !! Some are buying multiple kits and making LOTS of cards. A friend made the Christmas Card Holder for a family member in a seniors home ... a nice useful decoration for her room. Great ideas !!
I have already started next week's kit (a big step forward for me !!) and it will be 3 cards. That seems to be really popular so I will be mixing in card kits about every other week. By the way, thanks for all your enthusiastic support of the kits ... I am astounded every week how many I sell and how quickly they sell out !!! This leads me to believe that I need to make kits of some kind all year !
I do have some Hallowe'en Kits this week too. They are cards for your *spooky* loved ones.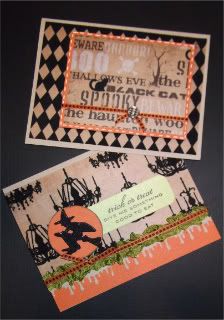 The first set are elegant more adult style cards with gorgeous flocked paper , antiqued ribbon, and glittery accents. The kit is $4 and makes 2 cards. I also have this paper in a great kit from My Mind's Eye if you want to make a whole album.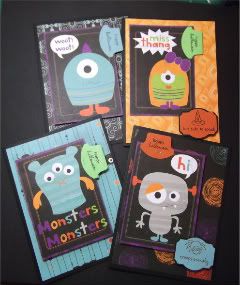 The next kit is for all those cute "little monsters" in your family !! These are super quick, super cute, and fun to give . The kit makes 4 cards and is only $5. Can't beat that !! The paper is from BoBunny "Hooligans" and I have more of it by the sheet.
I have lots more new things ... Fancy Pants "Traditions"
holiday paper
& accessories, adorable new
"Togetherness"
paper & accessories from
Cosmo Cricket
, new adhesives, new
Christmas Stamps
, WOW
flowers from Prima
... and sooooo much more. I have so much stuff, so little room, never enough time to finish it all up ... I am thinking I should just dump it out in a big pile in the middle of the floor ... what do you think ?!!!
And now ... beads ... more more more.
I am hoping to get the bracelet kits done up tonight as well ... there is lots to do but I am optimistic !!
I have lots of new chain
Hallelujah
!! ... and a fun idea to use some it ... watch hopefully next week for a picture !! I also have new watch faces, antique bronze jump rings, pearls, crystals, and spacers. So many pretty things !!
And a
SALE
!!! I got a great deal on strands of various beads so I am passing the sale on to you !! I have 16" strands of the following glass beads in various colours:
bicones $2
swirled $3.99
spotted $2.99
sugar coated $4.50
STOCK UP !!!
And this long weekend I am going to sit down and order all the parts for the Swarovski Christmas Earrings ... the time has come !!
But for now, I am off to unpack & put out the new items. Please stop in and have a look !!! ... oh, and Happy Thanksgiving !!!