Hello ! Another beautiful day out there ... The evenings are getting really short now so that means MORE CRAFTING TIME !!!! Here are a few things to tempt you !
The Twelve Weeks of Christmas - Week 6 !!
Here is the kit ... a trio of cards made using the new paper from Little Yellow Bicycle
"Christmas Delight"
.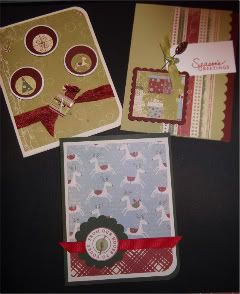 (not the greatest photo ... every time I try to take a picture , my cat Earl jumps up and bumps his head on my arm !! I will have to try to sneak into my craft room to take the pictures...!)
This paper is super cute ... reindeer, presents, trees, snowmen ... everything you could possibly want !! AND the accessories and kits ... WOW !! Here is a little list of some of the items you can get to go with this boatload of cuteness ...
* Christmas Project pack - over 167 diecut pieces. Makes gift card holders, banners, money envelopes, gift tags, and gift bags. All for only $18.75 ! ADORABLE !!
* Countdown Calendar - includes the peek-a-boo window sheet and all the supplies to make this wonderful advent calendar. Only $12.49.
* Journal Tablet - great for scrapbooking or adding to cards.
* 3 pack of Christmas banners - ready to use !!
* Beautiful felt stickers ... cardinals, snowflakes, stars, tree ornaments
* Really cute epoxy buttons
* Cardmaking Clear Stickers ... 27 pieces - ready to use as greetings on your cards !
* 68 piece Cardstock Stickers
* 120 piece jewel stickers - in beautiful Christmas colours and assorted sizes.
* Little pockets with 10 Things I Love about Christmas
(also the same little pockets for Hallowe'en )
* How about a chipboard slider with an arrow to indicate Nice, (Fairly) Good, (Not so) Great, or Naughty ... so cute for a scrapbook page !!
* Cute Cute Cute Envelope Album Kit with all the supplies for only $9.99.
To see these items go to
http://www.mylyb.com/
There are also new felties, stickers, and stamps from Dear Lizzie + American Crafts. I can just see the little felt cup of hot chocolate on a card now ...
CARDSTOCK - I have 2 cartons of cardstock. I haven't had time to put it away so I have just opened the boxes and left them out so you can pick out whatever you choose. There is one box of 12x12 ... great for scrapbookers and another of 8.5x11 ... perfect for cardmakers.
Let's have a little deal on it actually ... maybe there will be less for me to put away !
12x12 is regularly 65 cents a sheet . Buy 20 and get it for $11 ... that's only 55 cents.
8.5x11 is regularly 50 cents ... buy 20 for $8.50 ... that's less than 43 cents per sheet.
Hmm ... what else ... glitter by the vial, more embossing powders, new Cuttlebug & Sizzix plates, adhesives, ... and more.
RIBBON ... oh this will appeal to the cardmakers, quilters, jewelry makers or hoarders like myself !! It is GORGEOUS !!! It is hand dyed and scrunched up to be antique looking ... & beautiful. The bundles contain 5 yards and sell for $3.99. Limited quantities so get yours quickly !!! This ties beautifully and just a little piece tied on a card or tag makes it special !! I will also have some other solid colours by the yard. This stuff is ... yummy !
BEADS ... oh my, the most beautiful crystals - cubes, shapes, colours, ... I am practically drooling !! Watch faces. How about lockets ? I have those in several sizes. Also, I have more antique bronze findings and chain.
And ... I ordered the crystals for the Christmas Tree Earrings last week. They are due to arrive by week's end and should be all kitted up for next week. I will also have the snowmen and some tiny little sparkly angels ( yes ! NEW!!) . I also have a few sample snowflakes to play around with ... see what they look like !!
And there are tons of little tiny things in the boxes out back ... I am plugging away at getting them packaged up.
BRACELET KITS ... my, these have been popular !! I have sold out quickly every week so I am on an ordering binge right now to get a big box of supplies ... then it will be a kit making party at my place !! Watch for more kits and new designs in the next few weeks !!
Next Saturday is the deadline for the October Card Challenge ... don't forget !!
There is more coming ... I unpack stuff every day . AND , my head is PACKED with ideas ... its just to find the time to get those ideas out !!
Thanks and hope to see you this week !!
( and L.G. ... I have your 5 saved for you !)