okay ... my pictures are a little crazy ... here , there, big, small ... not sure what I was doing !!! But I am just trying to ...git' er done !!! Enjoy !!
Hello !
In order to give you a good idea of what's new I decided I would just list stuff as I put it out ... so here goes !!!
BEADS
:
* hundreds of new ceramic beads - awesome colours - sizes from 8 mm round to GINORMOUS shapes.
* new charms including more Christmas Charms
(Check out our new Charm Display ... all grouped in like groups, clearly priced, and easy to see !!)
* CRYSTALS and MORE CRYSTALS ... beautiful AB2X Swarovski crystals in various colours, sizes, and shapes ... Helsinki crystals - a very inexpensive option ... more of the crystal studded drops ( make fabulous earrings !) ... Swarovski cubes, oats, and pears ...
Here is a necklace made with some of the new ABx2 crystals and a nice bronze chain. So sparkly !!!
* Swarovski new Fall 2010 colours - Sunflower and Silver Night
*Swarovski WILD HEARTS in 3 sizes . These are their new pendants & they are beautiful. They are really a casual crystal ( that sounds funny !!) and look amazing just strung on a cord or leather.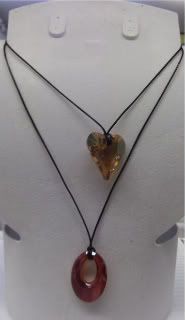 * Swarovski Helios ... a lovely long oval pendant
* Check the rack by the door ... I've added lots of strands of beads at great prices in beautiful colours - opal pink, cobalt blue, shimmery orange ...
* Funky Swarovski crystal tree earrings & pendants, and Large Angel pendants. Beautiful !! I love these new designs.
Her's a little photo of all the trees, angels, and snowmen available this year ... so much sparkle !!
* new prices on Tierra Cast Charms ... LOWER PRICES that is !!! These charms were $1.99 and are now from $1 to $1.50. A few of the newer bigger charms are $1.99 but they are amazing ... Buddha heads !!!
Week 10 Kit of the Twelve Weeks of Christmas !!
Please note : I only have 20 kits this week so let me know if you want one !! Thanks !
It's a banner !!! The kit is , as usual, $5 and includes all the supplies.The paper is from The Paperie Girls "Tinsel & Twig".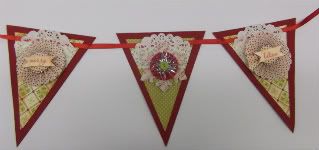 Here's a close up ..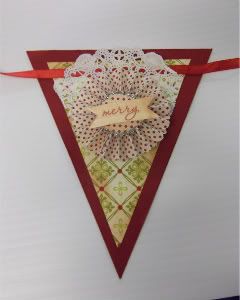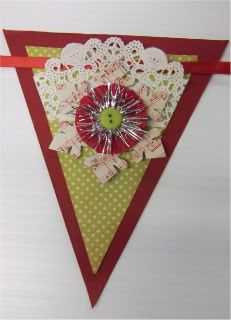 PAPER
:
* lots more ribbon and some flat back fused pearls
* 5" tape ... WHOA !!!! You could tape or glitter anything !!
* Martha Stewart Punches ... beautiful !!
* Paper - Lots of Christmas Paper !! -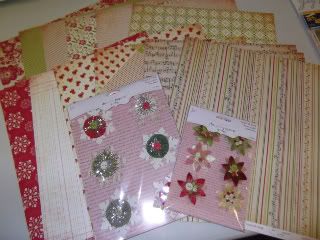 "Tinsel & Twig" from the Paperie Girls ... country red, cream, and a shot of beautiful vibrant green. I love it !! There is a design for everyone !! Florals, sheet music, ledger paper, stripes, polka dots, patchwork ... you name it. All in a wonderful vintage style ! The collection also includes beautiful flowers - crepe & tinsel, velvet & sheer, and paper ... very vintage Christmas and so lovely !! (paper $1.25 sheet)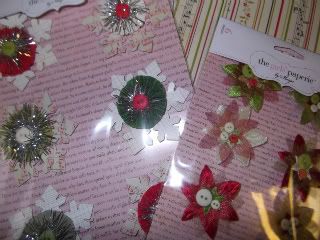 " Christmas Village" from TPC Studios ... fun designs. Glittery snow roofed houses, fat snowmen, and holiday words. The backs of the sheets are fun polka dots and plaids. A really cute accessory is the Snow globe Stickers ... they are 3D and you can shake the sparkly snow !! (Glittered paper $1.40 sheet, regular paper $1 per sheet)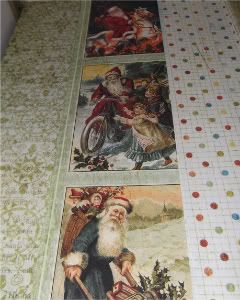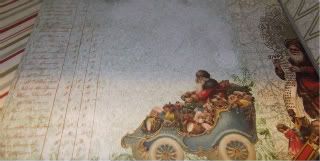 " Father Christmas" from Pink Paislee ... very Victorian and very pictorial. This would be gorgeous for scrapbooking although the smaller images & backgrounds would be great for cards too. The line includes punch out tags and the 6x6 paper pads.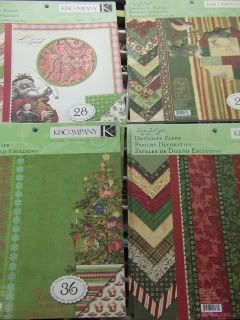 " Yuletide" and "Glad Tidings" from K&Co.... oh my. Beautiful lush paper in deep rich colours. There are 2 lines - "Yuletide" and "Glad Tidings". Each line has a 12x12 paper pad made up of 2 sided paper. The cost is $15.99 for a 36 page pad ... that's less than 45 cents per sheet. The other pad is specialty paper ... foiled, glittered, etc ... and that pad is $19.99 for 28 sheets ... an amazing 72 cents per sheet. Those papers are usually over $1.50 per sheet. And then ... the add ons ! There are several different packages of 3D stickers (they would MAKE a card !!) and they sell for $4.99 package. The designs include Santas, trees, birds, poinsettias, etc ... Lovely !!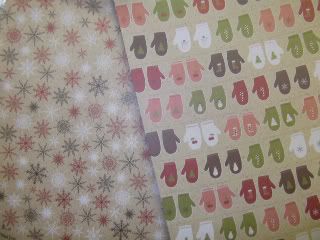 "Jillibean Soup" ... this is a great casual paper that would be great for scrapping or cards. It is a Kraft background . There are 2 designs - one has mittens all over the page in reds, olives, pinks, whites, and browns. The other is snowflakes in reds, white, & browns. Really nice quality paper !
I think this may be the last of the Christmas papers this season ... so don't wait too long !! Many of the other lines have quickly sold out !!
Also ...
*magazines & books ... Holiday Cards Vol 5, Interactive Cards, Iris Folding for Christmas
* stamps : Impression Obsession and Penny Black
* Queen & Co. felt borders ... put them on your pages, cut them up for cards ... lots of uses !!
And tonight I will go home & make the challenge kits for November/December ... hmmm ... must think about that one !!