Yep, November ... already !! And it is Week 9 in the Twelve Weeks of Christmas ...already !!
So let's get right to what's new !!
BEADS
: once again ... three more boxes to add to the 2 from last week. So I will keep plugging. Next week I hope to get the "Bead Beast" under control !!!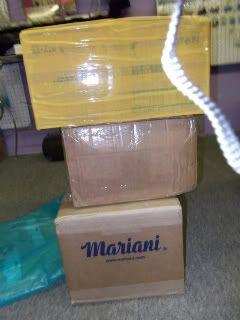 ** Sparkling Crystal Christmas Angel Earrings ... so pretty !! They come in clear, clear AB, clear with red wings, and clear with green wings. Small, sparkly, and so pretty !
(
I tried to take a picture but none of them turned out ... you'll have to see them in person
!)
The crystal parts for the clear trees and crystal snowmen haven't arrived yet ... I'm told tomorrow ... so they will be next week. And that is DEFINITE !!! And watch for some new "FuNKy TrEEs". I think they'll be great !
I have plenty of the green - various greens - trees and also some pearl snowmen. The prices are the same as last year OR LOWER in some cases. The angels are $5 per kit.
Now, I am being asked a lot if I sell the parts separately. (Some think it would be cheaper to buy individual pieces.) No. I don't. Here's why ...
1. They would not be cheaper ... I order just what I need in HUGE quantities to keep the kit prices lower . Because I can calculate exact quantities I can get what I need and not worry about extra stock. Keeps the price down. If I were to buy them to sell individually, I would buy smaller packages and they would cost more.
2. I don't need to worry about any missing beads, beads scooting around the floor, miscounted beads, mixed up beads, or broken pieces like I do the beads sold separately ... that all pushes the price up.
3. People would probably need help picking out all the pieces that they need for each project ... and sometimes its too busy and people would be disappointed. I don't like to disappoint people. This way, everything is ready and bagged up for each project. Quick !!
4. There are roughly 100 different parts ... I don't have the room !!!
5. Some pieces are too small so they would only be available in bags ... a bit of a drag if you only want two !!
6. I just find an average price for each part - all the various colours have different prices. It all averages out for me in the end. But individually they would all be different prices ... YIKES !!
7. I do give 10% off if you buy more than 10 packages, any assortment. That helps if you want to make them for sale.
Hope that helps !!
So keep watching ... there will be tons of new beads, findings, charms, etc... in the next week or two !! Also hoping to get more all inclusive bracelet kits done by the end of the month as well as bead mixes for memory wire bracelets and other projects. AND., I will get the seedbead rack filled up when I can get to the bead cupboard ... yep, it's that bad in there !!
(Confession Time : I took a photo of the 'unpacking room' but when I saw it on the screen , the chaos was even too embarrassing for me to post !! YIKES !!)
PAPER
:
* STAMPS - wonderful Christmas stamps - Inkadinkadoo & Hero Arts
* Kaiser Craft - awesome wood cutouts to cover with paper - wonderful wreaths and stockings. I can't wait to make one myself !!
* TONS more Stickles, Glimmer Mist ( I have been Glimmer Misting ALL KINDS of things and I LOVE IT !!), Glim Glam
* Jewels, Bling, all sorts of sparkle for the holidays.
* Embossing Plates - holiday themes - for Cuttlebug, Sizzix
* ink, ink, and more ink
* more ribbon
* and , like the beads, so much stuff still in boxes !!
**I also have more of the Teresa Collins paper - music, diamonds, etc... that we used in the Week 1 gift bag & card. AND, I have 6 more of the Week 1 kits ... let me know if you want one !!!** Have you checked out the JOVIAL paper by Basic Grey - especially the snowmen ?? It is so cute !! ( I used it in this week's card) I have more in stock as well as felt snowmen and a wonderful BIG snowman stamp that goes with it ... it has everything including stick arms, birds, eye glasses, pipes, ... anything that you would need to make a snowman !!
This weeks kit is a card trio ... its usually a card trio but that seems to be what most of you want ... using paper from Basic Grey's
Jovial
and Kaiser Crafts
Tis the Season Collection.
The leaves in the kit have been Glimmer Misted ... toned down the too bright green of the leaves and made the white leaf a beautiful coppery colour. (Wait 'til you see the new leaves I am making ... oooo so pretty !!)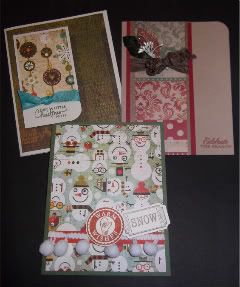 And here's something that never happens ... I already have next week's kit designed, sample made, and my cut lists ready ... ahead of the game ... WAHOO !!! Watch for a project using The Paperie Girls'
"Tinsel & Twig"
- super cute line !!
Coming soon : Tim Holtz's Configurations Shadow Boxes - these will be a blast !!
Next week I will be closed on Thursday for Remembrance Day . I am hoping an extra day to work will get me to the end of the tunnel !!! I really need to re-organize the beads and that takes so long, so - hopefully - this will do it !!! Watch for a "CHARMing Centre" as well as a full crystal table and MANY MORE individual beads, once I free up some trays.
There is also lots more paper & supplies to get unpacked and I think I can do it !!! Some of the new products are really fun !!
Fun things will be happening in beads & paper !!!
oh, and we are at Week 9 ... that means only 3 more weeks. I have had many of you tell me that you'll miss the kits ... SOOOOOO ... guess what ??? I am going to continue having a kit each week !!! It may be just one card or a little album, not sure really , but I will continue having a little project all cut & ready. You will never be without a card or little gift !!