That's one of the rubber stamps I received this week ... no kidding !! I have been tearing around today trying to finish kits, get stock unpacked, do the updates, pay bills, ... and so on. The flu payed me a visit this week so I lost a day ... that really messes up my work plans !! But I am happy to say that I will finish the kits tonight, I have unpacked some new papers and stamps, and am doing a quick update here !! But ... I haven't unpacked other boxes, I didn't finish my bead order, and I did not get any jewelry samples made. Next week hopefully !! Maybe I'll catch up ... and then get ahead ... well, I can dream !!
So ... here is this week's kit.
It makes 3 cards and all the supplies are included for $5.
It uses the new paper line from Imaginisce "Animal Crackers".
This is such a bright cheerful colourful line ... great for birthdays, fun events and people, kids, or just plain crazy exuberant life. It is also a varnished paper so it has an awesome shine to it.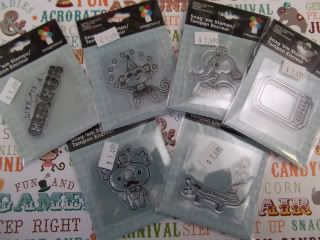 Along with the papers are some great stacked stickers and a half dozen really fun little stamps. Koalas, alligators, elephants, monkeys, tickets, and that "Life is a Circus" ... all only $1.49 each. Perfect !!!
I also have a few new stamps from Hero Arts and Hot Off the Press including a great retro typewriter with various messages. Great fun !
Well hope to see you this week ... I am germ free so don't be scared ... Drop in !!
Oh ! And join me on Facebook ... "Classic Hobbies".
Here's another use for your paper cutter ... apparently they are very comfy beds ...