February ... wow ... where did January go ?? As I type this we are waiting for another big storm ... the usual Thursday event it seems !! So hopefully everyone will be plowed out tomorrow and able to get out !
I have 2 kits this week ...
Valentine Kits
. The first is a simple colourful kit that would be great for kids, teachers, family, and friends. Actually, I'm sure the kids could put them together with a little help ... maybe a fun project on a snowy afternoon.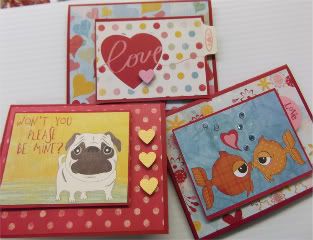 The images vary from kit to kit but they are all really cute. Each kit includes all the precut supplies to make 3 cards for $5. All you need is adhesive !
The second kit are more traditional Valentines ... pink and pretty. But not mushy so they would still be fine for friends or family as well as your sweetheart !!
Again, everything precut, all the supplies you need to make the three cards shown for $5. If you don't want Valentines cards, I think these could easily be changed to birthday or thank you cards.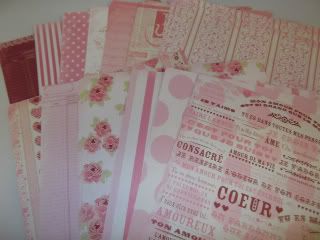 The second card kit uses the new paper from Making Memories
"Je T'Adore"
... it is really pretty. Perfect for Valentines but also for a baby girl's album, a little princess, or a romantic shabby chic album. It would also be beautiful for a bridal shower layout or a birthday. There are some wonderful glittered shapes available as well as banners, labels, and muslin ribbon.
Oh-la-la !!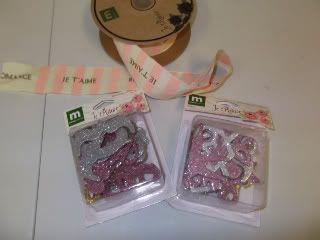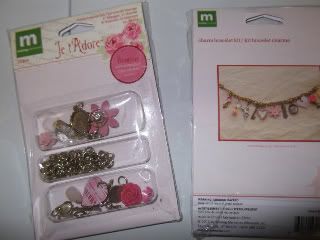 Oh ! And for the
beaders
... they have a
Valentine Charm bracelet kit
... complete with rose, hearts, and cherub charms. Really nice !!
Bind-it-Alls
: the special order Bind-it-Alls are here !!!
Well, that's all for now ... I have a lot to move around this afternoon so I'm out ...drive carefully & stay snug as a bug tonight !!
P.S. Join me on Facebook ... Classic Hobbies ... updates, specials, upcoming events.