Hi Folks !
I'm afraid this is just a super quick post this week ... this is once again a week of thousands (literally) of baby chicks at the feed store so I will be out there "counting my chicks" !! I did get a kit done for you though ... and I will get some samples done for the card class I am planning in August so I can show you next week.
Here's the kit ... bright & cheerful !! There is a bright fun "
Make a Wish
" birthday card ... great for a child maybe ... a sewing themed birthday card complete with a button and a pin, and a
Get Well Soon
card with a happy cheerful flower. The supplies for all three cards are cut, hand stamped, , punched , and ready to assemble. All for $5. Leave a comment here or on Facebook if you want kits saved.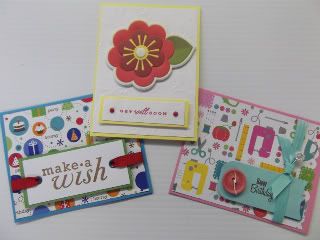 Have a great week !!
Oh ... almost forgot ... this week's sales !!
25% off all Embossing Folders (regular priced, in stock)
25% of all Beading Tools ( regular priced, in stock)
Thanks !! See you soon !!