Okay ... here's my problem ... I have boxes & boxes of "stuff" that I have no room to put out !! Some of it has been in my little room for months ...
TOO MUCH STUFF
!!! So ... now I am pre-ordering for new releases arriving in August to October ... and I still haven't put out some of the last bunch of stuff ...
SO I AM ASKING FOR YOUR HELP
!!!! I am putting on a sale to
MAKE SOME ROOM !!!!
Here goes ... July 21-23
PAPER : 12x12 patterned sheets of paper ....
50% off !!!
That's right !!! 1/2 price !!!!
That is all in stock regular priced paper.
And now for the beaders ...
BOGO table ... now buy
ONE
get
TWO
of equal or lesser value
FREE
!!!
Yes, TWO !!!
Semi precious strands ....
40% OFF

strands !!!!
Strands on the spinner by the door ...

40% off

!!!
So ... how's that for a sale ?!!
And now for the kits ... They are Sympathy Cards. As usual, all the precut, prestamped supplies for three cards for $5.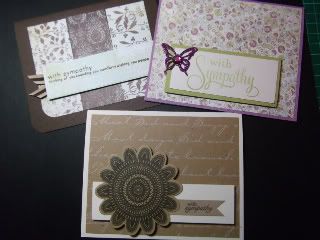 The cards are simple and dignified ... I don't like sympathy cards to be too frou frou.
(I find sympathy cards much easier to make ahead of time instead of when you need one. That way there is no emotional connection and it is not a sad process.)
**Card Class
... check out the info over there to the right ...
Hope to see you !!!!
(and you know that this means lots of room week after next for new, new new !!!)