******ALL
MELISSA FRANCES PAPER 2/$1******
I will no longer be carrying Melissa Frances products so I am clearing them out to make room for other products ... so stock up now on paper at 2/$1 !!
This will be the last chance to get her rub-ons, diecuts,etc... Once they are gone ... well ... they are gone !
Well it is September ! And that usually means a return to "normal' schedules and making plans for new projects. We also start to think about Christmas - decorations & gifts - so I have been busy ordering so that I will have lots & lots of stock for all those plans !!
Some of it has rolled in and I expect quite a bit more in the next week or two.
BEADS : an order of chain has arrived ( hooray !) although they didn't have much in stock. But I do have the most frequently used styles now. YIPPEE !! With that chain I also received ball headpins, fancy headpins, shorter earring hooks, watch buckles, double strand watch faces, glass beads, silver foil lined beads, gold foil lined beads, bead caps, and metallic beads. I also have a bit of semi precious : labradorite chips, blue goldstone faceted beads (wow), and red flower agate faceted beads ( again wow) . There are also pendants : fluorite, synthetic moonstone, carnelian, and chocolate jasper. LOVELY !!!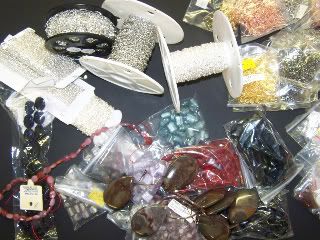 (Bead pictures never come out great but you get the idea !!)
* There will be more beads arriving soon ! *
PAPER : oh, some really nice new things. I have the new Tim Holtz Distress Stickles (6 new colours - brushed pewter, pine needles, tarnished brass, picket fence, black soot, and antique bronze) as well as the new Walnut Ink Spritzers in colours like lilac, willow, cherry blossom, and eucalyptus. Can't wait to try those !!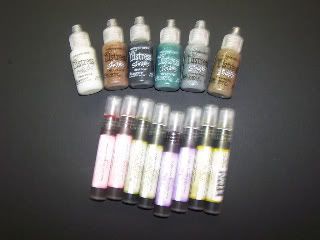 And then the rest of the box is mostly STAMPS !! Lots of little ones under $2.99 ... Hallowe'en, butterflies, hummingbirds, cupcakes
(all the good things in life !!)
as well as bigger sets for Christmas. Most of them are from Inkadinkado and they are lovely !! Perfect for making Christmas cards & tags !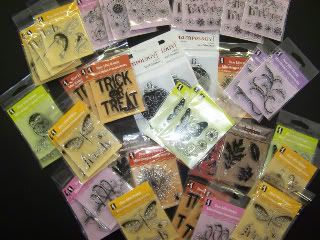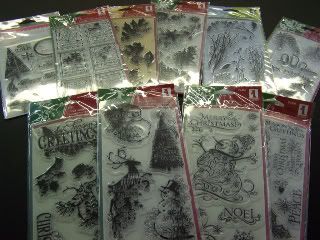 And lastly, there were some Tim Holtz masks ( to use with those sprays), book covers from 7 Gypsies, Christmas flowers & leaves from Bazzill, and new seasonal "Just the Edge" paper strips from Bazzill. They are really cute - I have the Swiss Dot embossed edges in various colours as well as the Christmas & Hallowe'en paper strips. Great fun to add to projects !!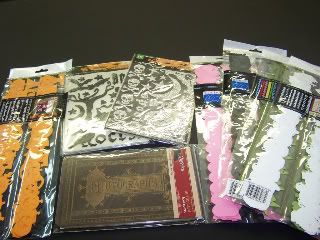 Come in & check it all out !!
Ooohhh my !! I just received 4 ... count 'em ... FOUR ... boxes of beads & paper to unpack . Expect LOTS of news next week !!!