Phew ! The holidays are over ... and I, for one, am glad. Too much confusion ... what day is it ? Do I work today ? Are my suppliers open ? Are there deliveries today ? Anyway ... we are back to a regular schedule and it's time to start CRAFTING !!!!
And even though I haven't been here much in the last 2 weeks, I Do have some new products for you !!
BEADS ...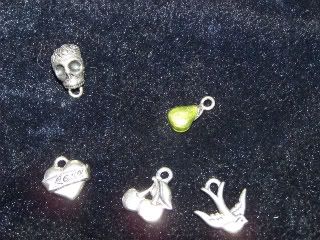 * new charms ... these are the greatest charms . They are based on old school tattoo art ... swallows, cherries, hearts, skulls, ... Classics !! And the pear ... not a tattoo, but a new charm from a different company !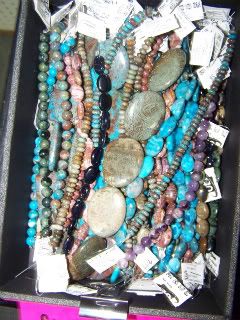 * new semi-precious ... I have more of the Blue Crazy Lace Agate, Teal Paisley Jasper, and Snake Skin Jasper ... even BIG pendant size pieces !! And I am working on an order right now to get some more of those little skinny metal tube beads to make the cuff bracelets with so these beads will be PERFECT for those !!
I had some time this week to work on some jewelry so there may even be some new samples in a few weeks ... !!!
As I cleaned up the other side of the store, I found MANY MANY beads ... some in large quantities, some in limited numbers , so keep checking the little bins by the door for great deals as I get them packaged up !!
PAPER ...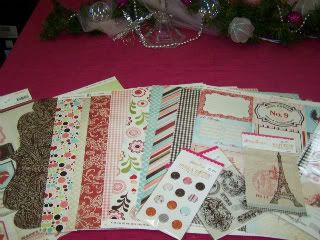 * New from PINK PAISLEE ... "CUPID" . Now I know that a lot of people aren't crazy about Valentines Day stuff ... I don't like all that frilly pink heart stuff ... but this paper line is beautiful !! It isn't overly "Valentiney" but it is fresh and cheerful. The colours are pinks, browns, robin egg blue, turkey red, ivory. The designs are dots, flowers, scrolls, stripes, gingham. It is really fresh & fun !! There are some Valentine images but they are great ... some are a bit on the tattoo side and some are iconic symbols like the Eiffel Tower, fleur-de-lis, crowns, and classic cupids (not diaper wearing babies !!). I am using the paper right now to make a paperbag album ... works great with the brown kraft colour ... I might even have pictures next week !!(I am trying to get my sewing machine working ... the paper reminds me so much of fabric that it is calling out for stitching ...)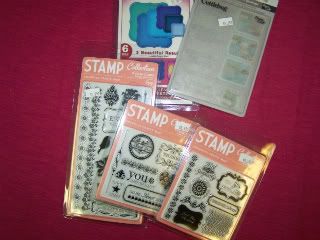 * new stamps ... from American Crafts ... large and small sets that would be great for cards and other gifts. Useful !!
* Nestabilities Labels One ... a great shape ... and Cuttlebug Folder "Textile".
* and it's all about STICKING !!! Lots of new adhesives ... the Glue Glider Pro tape gun and refills, ribbon adhesive, foam dots, and other tapes & adhesives.
So now that the holidays are over, start planning your craft projects ... nice long cozy evenings spent beading or scrapbooking and a cup of tea ... HEAVENLY !!!