Do you recognize this place ?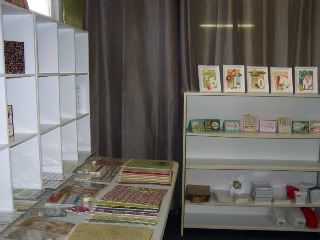 Maybe not. It's the store !! I have been planning some changes ... and this is the first ! This room will be a great place for samples, projects, the monthly challenge, and "Project of the Week". I hope that the first thing you see when you walk in will be something to get you inspired ! Right now it is mostly paper projects but I will also be adding bead projects and jewelry kits ... all in time !
So ... there is lots new to talk about , besides the room.
FIRST
... the CHALLENGE !
Each month there will be a beading challenge as well as a paper challenge. There will be a winner in each category and that person will receive a $10 gift certificate. The challenge will be posted on the blog in the sidebar at the beginning of each month. It may be a colour challenge, or a different technique, or a certain theme ... it could be any thing ! This month it involves a small bag of supplies. The bags are $1 each and contain the basis for the project ... use the items in the bag adding whatever you choose to make the finished product. (I wanted the first one to be easy !) Bring it in for display any time before the 24th of April. The winners will be announced on the 30th. The beading challenge is made with a bag of amethyst colour beads in various sizes ... and remember you can add ANYTHING you want to the mix. The paper challenge is to create a card with the paper & items provided, again adding whatever you want. The paper is the new "Bayberry Cottage" line from Pink Paislee. You can use whichever side of the paper you want, cut it or punch it, stamp it ... anything. Can't wait to see what you come up with !!
BEADS :
*lots of new semi-precious beads as well as new shapes and faceted beads : blue crazy lace agate, blue goldstone, breciated jasper, dog teeth amethyst
(who comes up with these names ??)
, dolomite, iron zebra, carnelian, Canadian jade, kambaba.
*new bookmarks in copper & gunmetal
*LARGE jump rings
*Wildfire in "frost"
*lots of new vials of 8/0 and 10/0 seed beads for all you peyote beaders
*charms : watering can, rake, "Mom", Born to Shop, canoe, motorbike, cats, baby carriage, epoxy vegetables - asparagus & carrots, cake, horse head, cap, school bus, band aid, sewing supplies - buttons, thimble, measuring tape,.
*Glues
PAPER :
Pink Paislee ... 3 new lines from this company and they all include double sided paper (for just $1 sheet), TAPE (!!), punch outs, press ons, cool cork buttons, clear borderlines, flip notes, ribbon pleats, glittered letters, adhesive letters, stamps, 6x6 paper pads , brads, ... so much ! And the TAPE - WOW !!
Here's the first line : QUEEN BEE.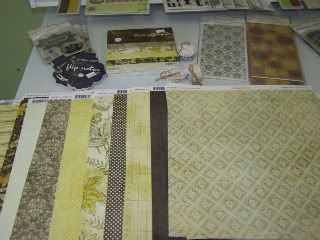 It doesn't photograph that well but it is lovely and time worn. I used it for some layouts with old pictures and it was perfect !! I'll have them on display along with some cards I made with it.
The next is BAYBERRY COTTAGE.
This is a nice fresh combination. I used it for a few cards and plan to use it for lots more.
The last is 365 DEGREES.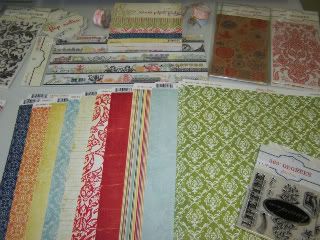 This is really nice ... bright and lively.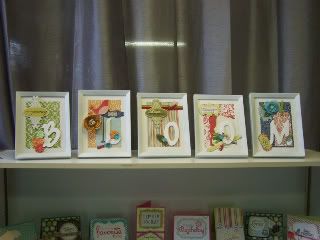 I made a multi frame piece with it - I love the bright colours ! This was a really fun project ... "BLOOM". Dollar Store frames were perfect . I plan to make other words for other seasons & holidays.
(And I probably should have cropped this photo but I left the little row of cards peeking out below because the pictures I took of them are blurry !!)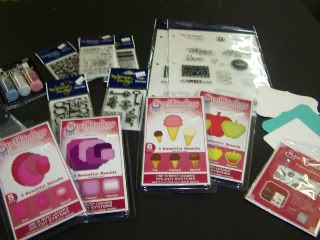 STAMPS : Technique Tuesday - including stamps by
Ali Edwards
and one design entitled "Glee" for all you fans of the show ! And don't forget the stamps from Pink Paislee. Next week I will have some great little inexpensive stamp sets from Basic Grey perfect for making cards !! And maybe even a little deal on them ...
SPELLBINDERS : Nestabilities - new label sets, Shapeabilities - Ice Cream Cone & Apples, Impressabilities - Cherries
Bazzill Die Cuts ... perfect for cards and only 50 cents each.
TIM HOLTZ ... his new book. *
sigh
* I love it !! "A Compendium of Curiosities"
And more ... Stickles 3 pack, EK Success punch, tags, rings.and maybe even more ... if I get it unpacked !!
Next Week ... 7 Gypsies and more stamps.
Here are a few fun cards ...
these are done with diecuts from My Mind's Eye so they are really quick & easy. They are the ones peeking out below "BLOOM".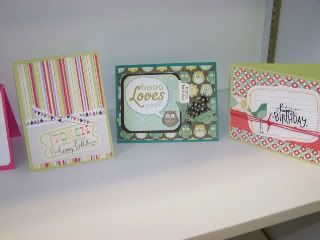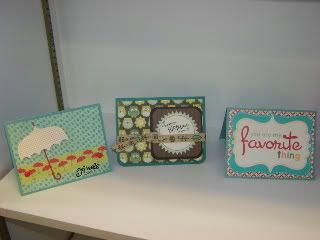 These are all done in the same design (obviously!!) but are really quite nice.

I used patterned paper on the top and the reverse side of the paper on the bottom. A great way to use up extra paper that you have ... maybe paper that doesn't seem to have a match. I'll have a little sketch and list of cut sizes for you .
Hope to see you this week !!!