Hello !
As promised I have a project of the week ... no ... make that two !! And they are "cross-over" projects ... a little bit of beading , a little bit of scrapping !
This is the the first project ... a beautiful bracelet made with chain, jumprings, and a lobster clasp from the beading section. Then I added some items from the scrapbooking section - Tim Holtz Type Charms , some with the included letters and some with 1/2" circles of 7 Gypsies paper, and the new 7 Gypsies mini keys. Cute huh ?! And soooo easy.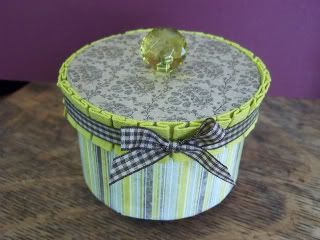 This is the next project ... a cute little box ... you could even put your new bracelet in it ! I used a papier mache box and Pink Paislee's "Queen Bee" line. I used the paper to cover the box, added a rub-on to the top of the lid, the pleats to the edge of the top, and then a piece of gingham ribbon around it. I attached the paper with the 1/2" ScorPal tape - it was really quick, easy, and much less messy than using glue.The top was really easy to do and I love the look of the rub-on on the bare kraft of the box. Then I added a 7 Gypsies knob and BEADS for feet ... just hot glued them on. The whole project took half an hour.I really like it ... I may make others in some of the new papers that are arriving ...
Beads
: I have more of the beautiful and less expensive
CHINESE CRYSTAL
. They are gorgeous ! I have more of the rondelles in new FANTASTIC colours and also some new shapes - olives, cubes, helix, and bicones. There are also some 4mm rondelles - I ordered them by mistake ! But they are lovely ... just little sparkly gems !! Since they aren't an item I usually carry, I am selling them by the strand and half strand. If you love them (!), I'll get more. But stock up now - they would be gorgeous in bracelets or as spacers in necklaces. A package of 70+ pieces is $7.99 (only 11 cents each !) or a 150 pc strand is only $14.99 ... 10 cents each for beautiful crystals !! I also have 4 mm bicones in pkgs of 50+ for only $3.99 ... that's less than 8 cents each compared to 20 cents for Swarovski . The cubes are also great prices ... I have a handful of colours but will get more if there is interest ... 4mm are 20 cents & 6mm are 30. The helix are 20 cents for the 6mm and 30 for the 8mm. And the olive ... only have one colour but will be adding more now that I have seen them ... are 25 cents for 6mm. Think of the amazing jewelry you can make !!
And speaking of amazing jewelry ... I have some on display ! They are the entries so far for the April Challenge and you can enter right up to the 24th. The winner will receive a $10 gift certificate ! Why not add your creations to the contest ? See the challenge in the sidebar.
There is also a card challenge ... lots of entries so far ! You have until Saturday !
Also new for you beaders ... lots of new metal beads & spacers, more charms, antique bronze chain - a plain one and a large ornate (and beautiful !) one, bead mats, wire, new stringing materials, and more than I am forgetting !
PAPER :
lots here too !
*Tim Holtz : Adornments & Time Pieces
(these would make amazing jewelry too !)
*Kaisercraft : 3D Photo Displays and some very nice paper.
*6x6 paper pads : Wee Bundle form Sassafras "Monstrosity" and from Cosmo Cricket - "Material Girl", "Joyride", and "Garden Variety"
*Lots more stamps
*7 Gypsies : photo trays, book covers, book board 6x6 and 8x8, tags, pockets, journal pages, Vintage Hardware, keys galore !
( I used the keys on a bracelet & love it !!)
* Cricut replacement cutting mats
* canvases in all sorts of sizes to use for altered canvases or collage work
* sold out of the Scor Pal work pads but I will have more soon. They are great ... they fit right into your Scor Pal so you can cut & glue right on it. I also have the lovely carrying bags for the Scor Pal. You could be the most stylish card maker in the gang !!
There is lots more to come ... just too much to do this week to get to it all. So keep watching !!
My Tim Holtz/Sizzix dies have been shipped ... they weren't all available but I do have at least some of them coming. I'll let you know when they get here ... I am sure they will go really quickly especially since I didn't get all of my order. There will be another order later but I'm not sure when.
Here's what I do know that I will be getting :
* extended cutting pads, texture boutique embossing machine
* Tim Holtz : tattered florals, keyhole movers & shapers, hanging sign, ornamental , regal crest, caged bird, baroque, hardware findings, on the edge (OTE) brackets, OTE ornate, OTE file tabs, OTE scrollwork. I'm not sure how many of each I am getting yet. The other designs have been held up.
* Sizzix Bigz Dies : bird w/wing, flourish & floral w/leaves, pinwheel, birdhouse
* Sizzix Sizzlets : small dragonfly #3, small corner flourish #2, small butterfly #12, small bee #4, small bird swallow
Next week is
COOKIES FOR C.
A.P.S
... not sure what I'm baking yet ... remember that for a $2 donation you get a baked treat and a coffee or tea. And all the money goes to the Companion Animal Protection Society. You fill your tummy AND help an animal ... win/win !! (And I get to bake and not eat it all !!)