Today I can finally share some photos with you !!! All - well, most- of the camera glitches have been fixed !!
So ... new product this week, new projects, and some great techniques !! Let's get started !
BEADS :
I am unpacking a box today full of headpins, eyepins, jumprings, bails, chains, earrings, pearls, crystals, wire, and threads.
Among the crystals are a new shape called "Graphic" from
Swarovski
that I have decided to try. I have them in 12mm and 18mm ... they would be great as a focal bead in a bracelet or necklace. Nice and showy but not fussy. Awesome !
I also have long bugle beads - many of you have been asking for them for earrings and long chain necklaces. Well , they're here !!
And now ... charms ... I have awareness ribbons for breast cancer (restocked) , yellow ribbons for Hope (restocked) , as well as new ones for autism.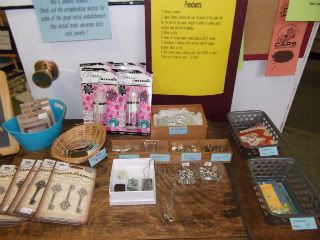 PROJECT :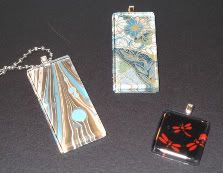 How about making your own pendants ? It is super easy and really fun ! These pendants are made with glass tiles, glue, and paper of your choice. I made them with handmade Japanese paper but you can use anything - scrapbooking paper, book paper, collage, ... the sky is the limit !! I have the pendants, glue, bails, small pieces of Japanese paper, and ball chain in stock now. Drop in & I'll explain the steps to you !!! Easy. Fast. Fun.
** SPECIAL **
Buy 6 vials of seedbeads & get a free Bead Spinner. This little baby will string your seedebeads quickly & easily !! (needle not included.)
PAPER:
*
Basic Grey
:
Oliver
and
Olivia
paper. Nice colour combinations. Can be used for baby books without being too cutesy or for adult projects. Very versatile. Great for cards too. I have the sheets of letter stickers for each. I also have the 6x6 pads for each - another great card supply.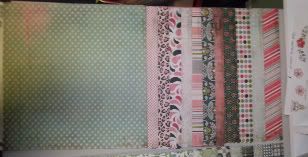 Olivia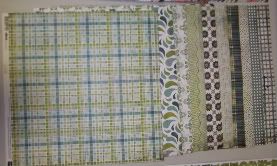 Oliver
*
CRICUT
Cartridge "
Winter Woodlands
" ... I have 2 cartridges here at a great price ... only $59.99 !!! This is the cartridge that will cut out the 3D winter village, among other things. Get it quickly !!
* eyelets, pearl brads, jeweled brads, adhesive gems,
* stamps - mini stamps, card stamps, more
Pure Innocence
stamps,
Inkadinkadoo Inchies
sets. These are a great deal. You get 9 1" stamps plus a block that will hold three stamps all for $7.99. There are several different theme packages. Also more from
Technique Tuesday
including "Dog and Pony Show" ... all pet animal stamps !!!
Hmmm ... I know one stamper who probably has almost all of these animals herself ... TC ... are you out there ???
* more Distress Ink, Stickles, ink blender pens
* Embossing Powder Kits - 14 jars of fabulous colour !!!
*
Thickers
alphabets in various colours and styles
* more
Cuttlebug & Sizzix
embossing folders
* metallic markers
* chipboard in 6x6 and 12x12
* Crepe ribbon ...
oooo ... nice !
*
Cosmo Cricket
"
Delovely
" 6x6 pads
* punches
* buttons
* metal words & tags
*
Sassafras Lass
Felties & Flowers
*
Clear Snap
Design Adhesives - great product !! 4 sheets per package. Add glitter or flocking to the 2 sided adhesive designs. Great for borders, cards, etc ...
*
Smooch
- 2 new colours - Pink Sprinkles and Wineberry
*
Heidi Swapp
- Fastenation Folder & Add-ons
*
Tattered Angels
Chalkline
- a new paintable product that gives you a deep chalklike coverage in wonderful bubblegum type colours. Awesome for chipboard !!!
**SPECIAL **
Buy 10 sheets of October Afternoon paper (Fly a Kite or Thrift Shop)
and get a free sheet of matching journaling cards !!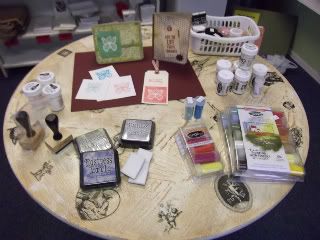 PROJECT : EMBOSSING !!
I am in love with embossing right now - sit still too long & I will emboss you !!! Here are a few projects using embossing ...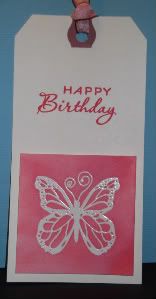 Birthday Tag : I just embossed the image in clear then rubbed ink over it. Attach it to a tag & you have a fast and easy tag !!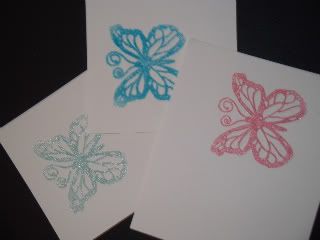 Various Products : Light aqua -
Stamp'N'Bond
from Stampendous ... stamp with a slow drying ink like Versamark, sprinkle with the Stamp'n'Bond, Heat until clear. Then add glitter ... also from Stampendous.
Blue - same technique except I used flocking. A furry little butterfly !!
Pink - I used
Distress Embossing Powder
. Rub the heated embossing powder with your finger to knock off the loose particles and create an aged look.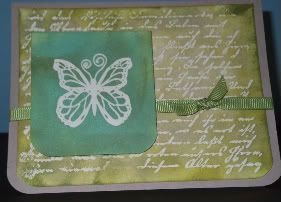 Butterfly Card : embossed the text stamp with white embossing powder as well as the butterfly. Then I rubbed various Distress inks over the design until I got the colour I wanted.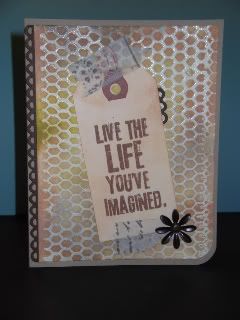 LIVE Card : I used a chicken wire stamp from Prima for the background with the white embossing powder. More Distress ink on top. I stamped the Tim Holtz LIVE stamp on a tag that I had also inked up. Then I used
Tim Holtz Tissue Tape
to attach it to the card and added one of his metal flowers. A little strip of
Bazzill's Just the Edge
Half in brown made for a nice little accent. I also added some of the tape inside.
And here's another little card using the tissue tape ... I adhered it in layers on the front. The tape is so lovely and thin that you don't even get ridges. A very simple card !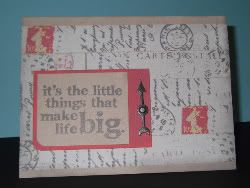 **NOTE**
I am extending the deadline for this month's challenge to August 21st because ... I have been TOO SLOW getting the kits ready. So you have a whole extra month !!!