Every box that arrives holds the loveliest things ... I think I have new favourites every week !!! Here are some great ones this week ...
BEADS :
2 boxes of treasures ... some of the contents aren't really photogenic - you know headpins, eyepins, jumprings, etc... - but oh so necessary !! But there are a few really great things that are picture worthy !!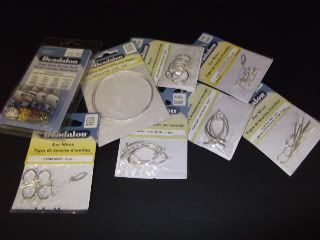 NEW BEADALON PRODUCTS : Beadalon has introduced a whole line of "
Designer Series
" products that will take your jewelry making to a whole new level !! There are some wonderful new findings for earrings and pendants as well as a really heavy jewelry cable that will make excellent necklaces for heavier larger stones. Some of the pendant & earring pieces are in the form of pinch bails that will leave beads suspended and twirling. Great for those tricky drop beads. Beautiful !! I hope to have some samples worked up for next week.
Beadalon has also introduced a multi pack of crimp beads ... 4 different colours , 150 pieces each, in size #1. A great kit for those who use different metals.
SWAROVSKI GRAPHIC CRYSTALS ...
oh my !
... these are gorgeous !! Like JEWELS !!! I have 2 sizes and 6 different colours in each. I can just imagine amazing earrings with the smaller sizes and beautiful bracelets with the larger ones ... can't wait to make something with these ... Just look at them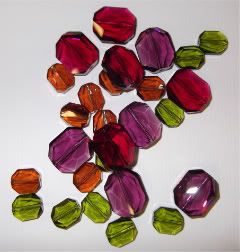 ... aren't they amazing ?!!
PAPER : some really fun new products as well as some old favourites !
ADHESIVES & MARKERS :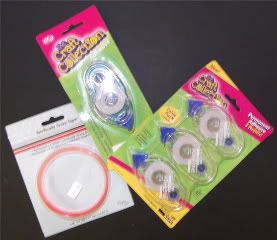 more adhesives ... Terrifically Tacky Tape from Provo and Tombow's Tape Runner & refills. Also Metallic Markers from American Crafts - great for those Christmas cards that we should all be making ... SOON !
RIBBON :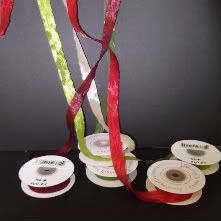 this is THE MOST beautiful crepe ribbon !! It is 3/4" wide and soft as soft can be. It has a beautifully soft wrinkled texture and colours that will thrill you and get you inspired !! I can't wait to use it !!
TATTERED ANGELS CHALK LINE Mist :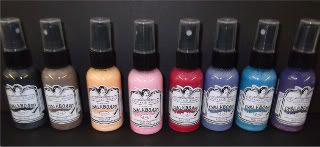 This spray will give you a more solid chalky finish. Great for chipboard ... or, well, anything !! Beautiful colours and so much potential !!
EMBELLISHMENTS :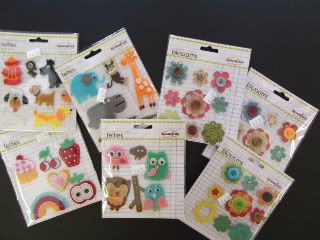 These have been out for a while but I couldn't resist them ... from Sassafras Lass ... these embellishments are so fun. Just one on a card or page would add so much !! The flowers are thick canvas like paper and the others are FELT !!! Too fun !! (Ignore the prices on them ... I priced them wrong !! The flowers are $4.99pk and the Felties are $5.99 pk.)
PUNCHES, TAGS, etc ...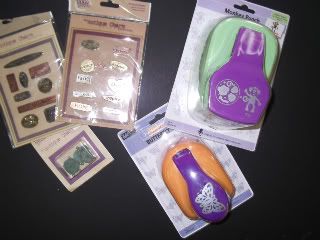 A few fun punches ... a multi layered monkey (who doesn't love monkeys ??) and a lacy cut-away butterfly. There are also some new metal adhesive tags as well as some metal coin like pieces that would be great for scrapbooking or jewelry. Their verdigris finish is awesome !
And, lastly, here's a sample for the gift bag challenge ... Get creating !!! Kits are ready !!
And don't forget the charm challenge in the jewelry category. And the deadline is not until Aug 21st !!!
Have a great week & stop in !!
*** SALES from last week are still on !! Bead Spinners and Journalling Cards !!