Hi everyone !
New things, sparkly things, Christmas-y things ...
**Just a quick reminder that the deadline for this month's paper & jewelry challenge is August 21st. You could win a $10 gift certificate ! There are some gift bags in already as well as a couple of beautiful charm pieces. Get your piece in soon !!**
BEADS : I am unpacking the box right now (it just came in last night !) but I can give you a quick run down on what's new . I have lots more of the Graphic crystals form Swarovski ... the first batch is almost sold out. There are also new colours !! Here are a few other items ...
* NEW - cut flat ovals with marble edge
* NEW - fire polished fuchsia in 3mm, 4mm, and 6mm.
* Preciosa flatbacks in Christmas colours - great for embellishing Christmas projects !
* round silver metal beads
* round silver filigree beads
* lots of size 10/0 seedbeads in vials ... 15 colours
* more Delicas size 11/0 ... 17 new colours !!
* RESTOCKED - Beadalon Wildfire .006" black
* NEW - bee's wax
* NEW - bead stoppers with coloured rubber tips ... another fun tool !!
* RESTOCKED - sterling silver "noodles"
* RESTOCKED - clasps,toggles, lobster claws, crimp tools, pliers
And ... September is coming !! That means the Swarovski snowmen & trees will be arriving as well as a few new projects !
PAPER :
NEW CHRISTMAS STAMPS from STAMPENDOUS !!!! These stamps are beautiful ... and cute ... and fun ... and affordable ... you'll love them !! I think they will sell quickly ... I have already ordered more but they may sell out from the supplier quickly too so don't wait too long !!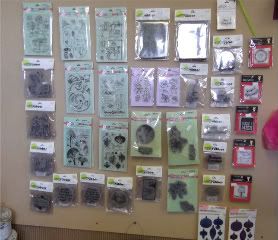 Also new
* more embossing powders & flocking
* heat guns for embossing
* Christmas foil stickers from Stampendous
* more mini ink pads
* Birthday mini stamps, perfect for cards !!
* Liquid Pearls
* Tim Holtz hardware bits & bobs !!
* Preciosa flatback crystals in Christmas colours - perfect for embellishing cards & other projects.
September will soon be here ... and with it will be the Twelve Weeks of Christmas !! I have been busy in my workshop (Santa's was busy !!) making kits for each week. It is going to be so fun !! When you purchase the first kit, you'll receive a little Christmas list to collect stamps on. A full list will get you a FREE kit at the end of the twelve weeks !!
I also just got news that the first of my Christmas paper pre-orders is being shipped ... and so it begins !! There will be lots of great new products in the next few months as well as all the new paper lines and Christmas goodies !!!
Let's go !!