Hi everyone !
Once again, this seems to be a quick post in between unpacking & ordering. Busy Busy these days !!
I have some great new items this week ... here they are !
PAPER :
Sassafras Lass ... I know ... usually REALLY bold & colourful, too colourful for some people. Well, this is a whole new direction for them. It's called Indie Girl and it is beautiful ! Think denim blues, apple green, a bit of brown & pink, turquoise, and mustard. Delicate patterns. Great accessories. This line is perfect ... except it has been selling out like crazy ! My first order I was unable to get any 12 x12 paper . I did get extra 6x6 pads but then I found some of the paper in 12 x 12. The larger sheets should be in next week. For now I have the 6x6 pads, the gorgeous little glittered letter stickers in turquoise, apple green, and pink, as well as the pennants & borders, and journaling stickers. Sitting at my work table, looking at all the beautiful colours & patterns, I had an idea ! The 6x6 paper would be the EASIEST mini album ever !! So I dug around, found some 6x6 page protectors, 2 6x6 pieces of chipboard, and then cut 2 1x6 pieces. From the initial idea to choosing all the photos to completion was 2 hours - Easy Peasy !!!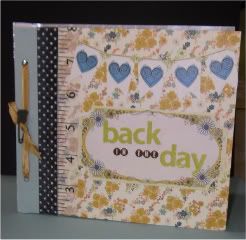 I used the sheets of paper - no cutting- as well as the adhesive letters & pennants. I also used some of the new Whimsies form Sassafras. Cute ! I used a little bit of 7 Gypsies masking tape to make the hinged cover & then tied it all together with some of their seam binding. The only paper I cut was to mat the photos. It was really quick & fun. The paper lends itself to older photos as well as current ones. I used black & whites and was really pleased. I bet that the album cost me less than $12 to make too. Can't beat that !!
Here are a few other (crummy) photos ... much prettier in person !!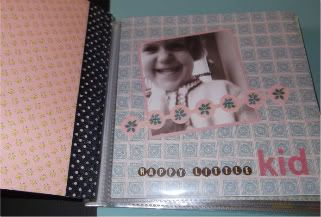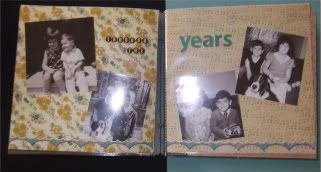 I did get a few other things in ( that I didn't have time to play with ...). New from Cuttlebug is Winter Wonderland , a set of embossing folders. I also have restocked on some of their individual folders. From Cricut I have the 12x12 cutting mats as well as a NEW cartridge "Country Life" . This is a new full size cartridge ... my price is $64.99. Yep, you know how much they usually are - $100+ - but you can get it here for $64.99.
BEADS : oh, I have some beautiful new spacers ... tiny little silver & gunmetal spacers studded with black crystals. And speaking of crystals, more Chinese crystal has just arrived. I haven't opened the box yet but will be doing that as soon as I finish here.
I also have lots of new findings as well as more 10/0 seedbeads, large bugle beads, and Delicas - lots more colours !! I took home a bag of goodies to string up a few new projects but realized I had forgotten some of the parts so ... next week !
Also ... about those nice little crystal studded spacers ... they make me CRAZY !!! They are too small to keep track of & they always get all mixed up so I am changing the way I sell them ... they were 50 cents each but now they are in bags of 10 for $3.99. A better price and a much easier way to sell them & keep them all sorted by colour. This should be much better !!!
SEPTEMBER : I have done up a few more projects for the Twelve Weeks of Christmas ... I think it's going to be a lot of fun !! ( It has been for me so far !!) I have also preordered LOTS of the new scrapbooking stuff ... My Mind's Eye, Cricut, Sizzix, Theresa Collins, 7 Gypsies, Making Memories, Maya Road, Tim Holtz, Imaginiscence, Pink Paislee, Doodlebug, Cosmo Cricket, My Little Yellow Bicycle, Graphic 45, ... to name a few ... It's going to be exciting !!
And for beads , I am trying to get some new projects done and out on display ... a few things to get your creative juices flowing and some ideas for new products. I am also working on some Christmas jewelry for the fall. So many ideas, so little time !!!
This Saturday is the deadline for this month's challenge ... bring in your gift bag or charmed piece ... you could win a $10 gift certificate.
And next week is CAPS week ... more baked goodies !