Hi everyone !!
This week I am a little bit in between ... between sending & receiving orders. So that means there is lots coming but it's not here this week !!! Even the Christmas stamps that have been travelling the country for the last 9 days are still MIA.
sigh
Oh well !! There are still plenty of great things to look at & stock up on !! I have been filling up my new crystal display stand and it looks fabulous ... sparkly & pretty ! There are some nice new papers from Basic Grey - Oliver & Olivia. And all sorts of odds'n'ends ( beads & paper) that I put out as the days go on. So stop in !!
I have been sorting through my stuff at home and came upon a stack of Sizzix Originals Cutting Dies that I bought second hand ... and then ... never... used. So I have brought them in to sell. There are flowers, tags, bookplates, alphabets, etc... The small ones are $6, the larger sets are $10, and the large box of Lollipop Alphabet Cartridges Upper Case is $40. No tax.
And I sat down this week and started planning out the Twelve Weeks of Christmas ... one project each week starting in September. Here's a little sneak peek at one of them ...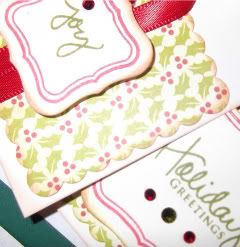 Next week I'll get a few more done ... this is going to be a lot of fun !!!
Remember the deadline for this month's challenge is August 21st.
See you !!