WOW !! That is the best way to sum it up ...
Last Friday I had 7 boxes arrive at the store. SEVEN. YIKES !! Paper and beads. So we loaded them all up and took them home. I worked all weekend and Monday & Tuesday ... and still haven't finished !! Oh my. There is so much new stuff. I will have something new & exciting every week for WEEKS !!!
So I will be quick here as I really want to get a bunch of it put out for sale - obviously.
BEADS
: Restocked on wire, findings, elastic, tools, and more. But also ... new things !! I loved the pale lavender 8mm round glass beads that I used in last weeks bracelet so much, that I ordered a few dozen more colours ! I have about 1/3 of them tagged so far. They are gorgeous ... some are vintage colours, some are neutrals, and some are vivid pops of colour. Beautiful !! My mind is spinning , thinking of all the new bracelets I can make ... These beads combine beautifully with crystals, pearls, other glass beads, ... little workhorses they are !!
I also have TONS ... okay POUNDS of new Swarovski and Preciosa crystals in new shapes, sizes , and colours. These will be out next week ... I am going to have to do a major reworking of trays & tables !!! They will make the most beautiful jewelry for Christmas gifts ... sparkly earrings, dainty bracelets & necklaces, ... oh my.
Last weeks kits SOLD OUT in no time. I will have more, I am just waiting for the tiny bright silver spacer beads. The good news is I have 10,000 of them coming ... should hold me for a while. ( not to mention the 50,000 in other colours ... boy, that will be a weighing job !!) . Anyway, I have a new bracelet that I will be kitting but I need those little spacers so it will be next week before I get them.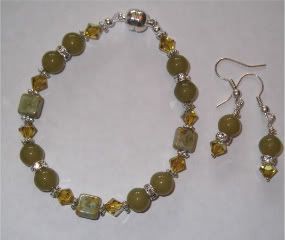 It also uses the 8mm round glass beads as well as crystal rondelle spacers, AB lime crystal bicones, and glass squares. Really pretty with a pair of sparkly little earrings. Once again, the kit will be complete ... wire, crimps, everything !
BEADALON has some awesome new findings that I got in a while ago but haven't had time to experiment with ... lovely earring findings that allow you to turn those drops with the hole going the wrong way into earrings. Exciting possibilities !!
I was supposed to be in Toronto today looking at the new Fall Colours Swarovski Launch as well as all the new things for Tierra Cast and Unicorn Beads. BUT ... way too much work here so I scrapped the plan. But , don't worry, I will be on the phone with my sales woman ordering up all the new things regardless. I'm sure they will be spectacular !!
So ... new beads, restocked on essentials, more samples, and kits coming soon.
PAPER
: I don't know where to start ... well, how about Christmas ?
I have a several more lines of Christmas paper & accessories. Imaginisce ( bright & cheerful), My Mind's Eye ( packs in 2 different styles as well as lots of accessories and stamps), Cosmo Cricket mini decks "Mitten Weather", and more !!
Cosmo Cricket
: mini decks - Mitten Weather, Pixie-Licious, Wanted, Matilda , and Togetherness. Accessories. Also 12x12 Pixie-Licious ... this paper is so cute !!!
Hallowe'en
: if you know me, you know I can't let this go by !! I have some super cute kits from My Mind's Eye called Blackbird. Cute Hallowe'en - perfect for your kids Trick or Treat pictures. Matilda from Cosmo Cricket is also an adorable line for the spooky day. But, if like me, you like a more traditional Hallowe'en then Haunting from My Mind's Eye is for you. It is fabulous. The whole package is done on kraft colour and it is all flocked in black. It is so rich and decadent ... I love it. The images include witches, chandeliers, haunted house, bats, arched cats, skulls, etc ... . I was in Hallowe'en Heaven !!! These lines all include accessories, tags, brads, buttons, stamps, etc... Scarrrrryyyy stufffff !!!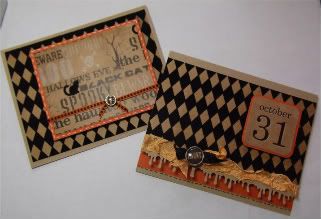 Look how inky black that flocking is ... love it !!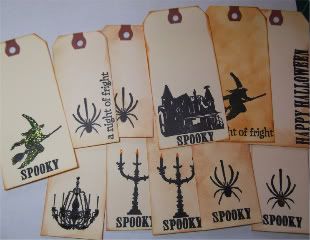 Here are a few tags I made with the matching stamps ... REALLY QUICK tags ... just stamped them on the manilla tags, inked them up a bit, and added Stickles to some of them ... DONE !!
The tags are only $1.99 bundle so you could easily make them for all your treat bags.
Watch for more Hallowe'en samples in the upcoming weeks.
My Mind's Eye
... okay, I know I have said before that some paper is the most beautiful paper I have ever seen. I take it all back. I have NEVER seen anything like My Mind's Eye 's new line LOST & FOUND. It is amazing ! It is vintage, pretty, glittery, whimsical, girly, boyish, homespun, antique, ... EVERYTHING !!! It is spectacular and it will work for so many things. It would be amazing for a daughter, a baby, a wedding, a romantic vacation, an antiquing trip, an album about our treasures, families, anything. I am really wowed by this paper. There are 4 main themes - Madison Avenue , Portobello Road, Market Street, and Union Square. I have the first 3 out for sale. Union Square will have to wait for a week or so when I can find more room !!
Portobello Road
is soft bottle greeny blue, creams, and silver,. It features glitter, party pennants, birds, cowboys, vintage style images, as well as some really great boy images on the backs of sheets - vintage planes and spurs. The paper is very feminine but the backs are more masculine.
Market Street
is pink and pink and pink and glitter, green, cream. Luscious ! It is crowns and princesses and all things girly.
Madison Avenue
is pink, brown, cream, and features lots of glitter, dressmakers forms, ribbons, banners, etc... All the collections will mix well. There are also loads of accessories ... buttons, brads, stamps, 3D pieces, adorable albums, ribbon, tags, ... so much. When I unpacked this I was the Glitter Queen ... from head to toe ...
Anyway, you'll have to see it in person to
just how beautiful it is !
( And I have an awesome project lined up for it ....)
The TWELVE WEEKS of CHRISTMAS ... WEEK 2 !!!
This week's kit is a card kit. The kit is $5 and will make 3 cards from Imaginisce's new paper. Everything you need is inside except for adhesive. Have fun !!!
** I was really surprised by the response to the Week 1 kit ... sold out by the second morning !! Many of you have reserved your kits which is great and if anyone else wants to do this, just let me know. But if I do sell out, I will be making more. So I expect to have more of the Week 1 kits in a week or two. Leave your name if you would like one.
(Remember, if you buy kits 10 of the 12 weeks, you will get a free special kit !!)
And, that wraps me up for this week. There is so much more but I know I won't get it all unpacked this week. But that's lots to enjoy ! Drop in !!
New challenge for September/October !!