As of 11:09 tonight it will be fall ! I love fall - the colours, the smells, the tastes, the energy, the weather... all of it ! I always feel all fired up and ready to take on big projects ! Hope you feel the same way !
So what's new this week ... ?
More of last week's bounty has been unpacked !!
BEADS :
I am unpacking crystals from Swarovski and Preciosa .. ooh the sparkle ... I have beautiful drops, pears, olive shapes, rice shape ... hey ! all food names !! ... and they are gorgeous. They will really mix it up from the regular bicone shapes. I am envisioning a necklace of somewhat fine chain with a medley of these various shaped crystals interspersed ... hmm ...
The drops and pears are also very earring friendly as the holes run from the point to the bottom ... pop in a headpin & you are ready to make fabulous sparkly earrings !!
I also have more shapes in some of those luscious AB colours that I ordered a few eeks ago by mistake ... happy mistake !! So Erinite, Lime, Black Diamond ... all in AB finish. Endless possibilities !! I also have some cubes in Christmas colours . The larger ones are a bit pricey but all you need is one to make a big impact. I'm working on a sample to show you.
I have a whole bunch more of the 8mm round glass beads ... vintage colours, bright/fun colours, delicate colours ... they are amazing combined with a few crystals and silver spacers.
And ... speaking of spacers ... I have a very heavy box of the little devils at home on my table. I hope to get the scale out tonight and get a bunch packaged up as well as more of the bracelet kits bagged up. Busy night !!
PAPER :
I have a few sample cards made from that FABULOUS paper from My Mind's Eye ... ooh they are so glam !!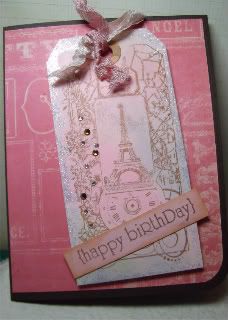 I loved making them. I used the stamps from their line as well as a Hero Arts stamp that I have. I pulled out my Distress Inks in all the pretty colours as well as Stickles and flatback crystals and beautiful crinkled ribbon ... ( I will have some of that amazing ribbon for sale in a few weeks !!). They were so fun to make!!
Next, I hope to get a wall hanging done ...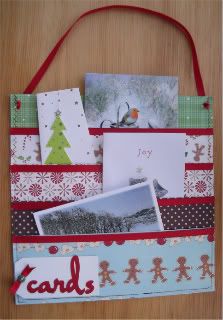 Week 3 of the Twelve Weeks of Christmas
is a card holder. The complete kits are $5 and come in various patterned paper - traditional, modern, cheerful, etc ... You can sew around the edges or simply use 2 sided tape. I sewed mine but would recommend that you use a straight stitch instead of the zigzag ... urgh ... it seemed to undo itself when I backstitched. And I , personally, would have put the tag on the right but I had made such a mess with the sewing machine that I had to cover it up somehow !!! YIKES !! You could also eliminate the tag and simply put the letters directly on the bottom pocket. I used the tag so they would show up better on my paper. It would also be really nice to glitter the letters !!
For all those of you who missed out on the previous kits, I am in the process of making more. I am waiting for a few supplies and then I will have a stock of them available !
This is Cookies for C.A.P.S. week - already ! It seemed like it was just last week !! Anyway, in between weighing beads tonight I will also be baking . Stop by to have a sweet treat and help out a great cause !
So keep stopping in ... I have so many great new things arriving weekly that I can hardly stand it !!