Sold out of the bracelet kits and almost sold out of the Christmas Week 1 kits ... let me know if you want any as I will make up more and can set them aside for you !!
(call or comment) Thanks !!
It is September and it is cooler & fresher ... so let's turn our thoughts to CRAFTING !!! This is a great time to start on some Christmas projects ... they'll still be fun in September.(I can't say the same about Christmas Eve when panic is setting in !!) So let's begin!!
PAPER :
I have new Christmas paper from Theresa Collins and I love it ! It is a deep dark red with black, mustardy gold, and cream. Very elegant !! There is a nice range of accessories with this line ... ribbon, "Blingage", chipboard ... and more to come next week. That's what I used for ...
WEEK 1 of THE 12 WEEKS of CHRISTMAS !!!
This kit is $5 and it has all the supplies (except adhesives & antiquing ink) for a gift bag and a card. Great way to start "getting your craft on". There will be a new kit every week for 12 weeks. You can buy one kit or all of them - it's up to you !!
When you buy a kit I will fill out a little passport for you ... each week you buy a kit, I'll check off that week. If you get 10 of the 12 weeks checked off, you'll get a special kit for free !!! Think of it as a little early Christmas gift !!
There is also a wonderful new line from Making Memories ... Christmas paper in soft antique colours. Ribbon. Rub-ons. 8x8 paper pads. Also very pretty !! This paper will probably make an appearance in a weekly kit soon !
OOPS !! I guess I better redo the display ... I forgot about the Christmas line from Imaginisce. If soft antique colours are not your thing, this may be what you want. Bright, cheerful, colourful, cute and fun !! I have a mini xxxxx made from this paper for a weekly kit. (You didn't think I was going to tell, did you ??!)Actually I am running out of time today so it may have to wait for next week. In the next 2 weeks I will have My Mind's Eye ... amazing stuff, as well as 7 Gypsies, more Theresa Collins, and ... more (I've forgotten !!).
Then, you can also check out the new
stamps
(Imaginisce, Basic Grey, WE R Memory Keepers, ... mostly small stamps under $1.99 each) There is a great series from Basic Grey that is a little stamp set for each month. They sell for $2.75 each but you can buy all 12 for $25 ... that's a savings of $8. They are really cute and would work well for cards and embellishing scrapbook pages.
Also new this week ...
Embossing plates
... a bunch more
Punches
... cupcakes, snowflakes, scallops, etc ...
Jenni Bowlin
- butterflies galore !! Butterfly Banner Stickers and Embellished Butterflies
Maya Road
- mini laundry day chipboard,awesome trinket pins in great colours for Christmas, and more.
Memo Pins
from Tim Holtz ... I have a great project to try with these ... maybe next week !!
BEADS :
I have unpacked POUNDS of beads in the last week . There are lots more metal beads, beadcaps, and spacers bagged up ready to fly out the door - some already have !!
The seedbead rack has been refilled complete with some new seedbeads and flats in great colours. I have some beautiful new crystal studded rondelle spacers in gunmetal . They look so antique and ... well just lovely !! Here's a necklace I made with them ..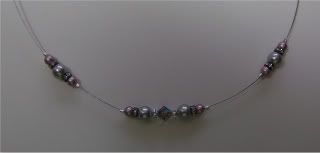 And here is a little bracelet/earring combo ... I've actually kitted this one up if you're interested in making the set !!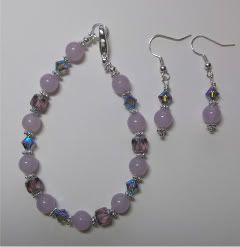 . The kit contains EVERYTHING even the crimps !!It's home on my work table so I can't tell you the price ... sorry ... I'll update tomorrow.
$10
I have also added some strands of beads as well as individual beads.
Next on the agenda is the Crystal Christmas Jewelry as well as a BIG sale on crystals ... soon !
So come on in and start the crafing season !!
Oh almost forgot !! The Craft Challenge winners are ... BEADS - Wendy A.
PAPER - Rosetta. Thanks everyone !!! Too many things to get done in this short week so I didn't get the new Challenge done ... next week !!