... That's the
paper
line I have for sale this week !! It is beautiful - lots of bluey greens, browns, mustard... gorgeous !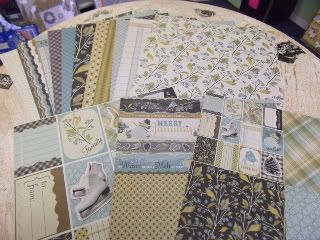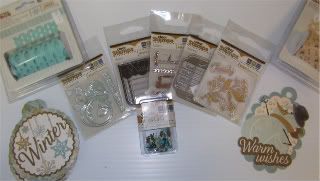 It is from We R Memory Keepers and includes some great stickers , dimensional titles & embellishments, as well as flocked adhesive ribbon, tags, mini stamps and glittered brads. It has fun themes - winter, family, skating ... but it's not overtly winter. It would work for any time of the year. That's what I used to make this weeks kit !! And it all seems appropriate today because as I type this, it is snowing to beat the band !!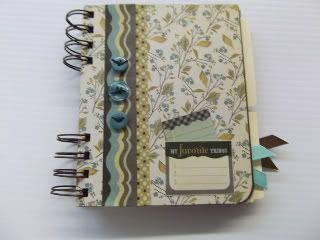 The kit this week is a bigger kit than normal. I was going to make a card kit as well but when I saw the weather, thought it might be a bit of a slow week so I would hold off on that for another week !! This week's kit is a mini album - made from scratch by me . I cut & covered the cover, cut pages and tab sheets, added envelopes & tags, and then bound the whole thing together with my handy dandy Bind-it-All. The kit includes the album, printed paper, card stock pieces, ribbon, buttons, a brad, flocked adhesive lace, button twine, tags, journalling cards, We R Memory Keepers tags & embellishment cards. The album is assembled - you just have to decorate the pages, add embellishments, photos, and journalling. The kit is $15 and I only have a few so let me know if you want one !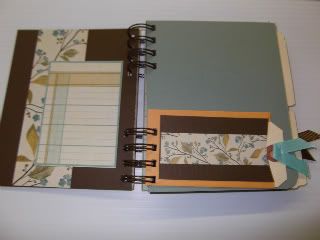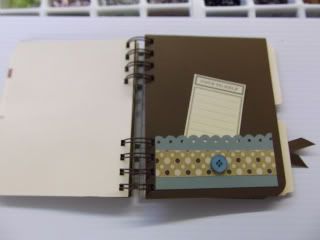 EDIT : The kits are sold out but I can take your name if you want one. It will be a few weeks before I get them made but I will ... I promise !!!
So now you know what is new in paper ... how about
beads
? Well, I am unpacking some new glass drops today . They are really pretty !!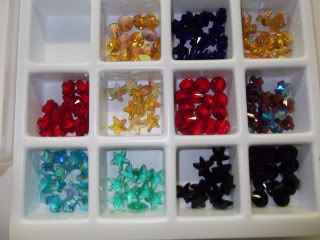 And there are new spacer beads - including those tiny bright silver star beads that I use so often ! , and corrugated UFO style ( also one of my favourites !!). I also have a bunch of glass pendants - just add a chain or ribbon necklace ... voila ! Instant Jewelry !! But wait until (hopefully!!) next week ... I have ordered some amazing new beads !!! Big beautiful donuts that will make amazing bracelets. Lantern beads. Strands of gorgeous firepolished. So many donuts ... you'll think you're in a Tim Hortons !! I am really really excited about these beads ... the pictures look amazing so I am sure they will be even more beautiful in person !!
Now ... next week !!! Next week will be fun !! There will be lots of new beads and some amazing new paper lines . The beads are big and colourful. The paper is all along the lines of cupcakes & recipes/baking. It's fun , it's bright, it's cheerful !!! I will have some really fun recipe box kits as well as fun fun paper !! (Melissa Frances, Doodlebug, Lilly Bee, October Afternoon, Little Yellow Bicycle) I hope to get a recipe book made up as well ... a fun thing to make for yourself, as a gift, or for a child. So to celebrate ( and to help you love January !!) I am baking up a pile of little cupcakes, putting on the coffee, and throwing
a little cupcake party
!! Drop in , have a little sweet treat, see all the new sparkly pretty stuff, and get inspired !! Hope to see you all !!!