YAY ! It's Cupcake Week here at Classic Hobbies !
First ... come in and have a cupcake !! I am baking up a tray of treats tonight ... chocolate mini cupcakes I think. What's a cupcake party without cupcakes ?!
Okay now, Paper...
all things sweet, cupcakes, domestic goddess kind of thing !! I have "Modern Homemaker" from October Afternoon, "Domestic Bliss" from lily
bee
designs, Bon Appetit and Hometown from Doodlebug, "Kitschy Kitchen, from Melissa Frances, and various cupcake papers from My Yellow Bicycle among others. There are papers with cupcakes, papers with aprons, papers with retro mixers, fruit, houses, oven mitts ... it's all so cute !!! Not to mention the accessories ... stickers, canvas borders, recipe cards, brads in the shape of ...wait ... SPATULAS and OVEN MITTS (they are adorable !!) ... and so much more. I have wooden recipe boxes that can be covered with paper and Mod Podged. And check the sample recipe book ... not completed yet (busy week !!) ... you can buy the hardware & make one yourself or order a kit full of fun precut stuff for $25.
The Kit of the Week is a set of three cupcake themed Birthday Cards. Everything included (except glitter) ... $5. Cute felt cupcakes, glittery cupcakes, chipboard cupcakes. Cupcake heaven !!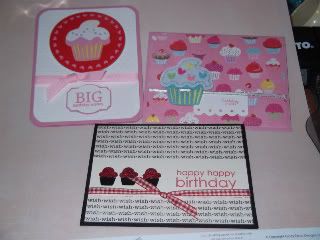 Now beads ... oh, if you could see the beauties spread out in front of me. Strands and strands of gorgeous sparkling beads. BIG donut beads that would look fabulous in a long chain necklace. Strands of multicolour cathedral shaped beads ... on their own they would be a beautiful bracelet !!! Just imagine if you added other beads ! Anyway, I can't work on this post too long ... there are beads to be unpacked !!!
Hope to see you !!