Hello !!
Here it is March ... already !!
So ... what's new this week ?? Only the most beautiful sparkly stuff on earth !!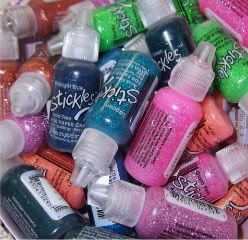 New Stickles ... 9 new amazing colours .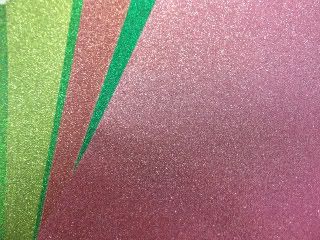 And GORGEOUS sparkly paper from Best Creations. This paper is wonderful - it is super heavy, beautiful colours, and the glitter DOES NOT COME OFF !!! I used some in this week's kit - I couldn't resist. I'll be ordering more colours soon ...
And speaking of this week's kit - here it is !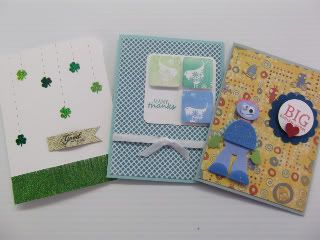 A "Medley of Cards" ... a Thank You card, A Birthday card, and a Good Luck card. I wanted to do something for St. Patrick's day but that seemed quite limiting so I decided to use the sparkly green paper, the new FRINGE SCISSORS, and the sparkly shamrocks for a Good Luck card appropriate for any occasion calling for a little extra luck !! You get the pre-cut, hand stamped pieces to make all three cards for just $5.
I also have a whole stack of 8.5x11 cardstock in beautiful spring brights. Perfect for cards.
Ooohhh ... almost forgot ... little Easter stamps as well !!
In Bead World I am filling a tray with large metalized beads. These beads are great ... they are coated with sterling silver but are light ... perfect for long necklaces. They come in great shapes & sizes and would be beautiful mixed with chain sections and a few links of beads. Super project !!
And speaking of chain ... there's new chain ... great fancy designs.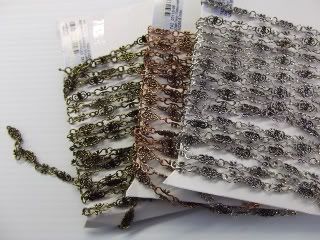 Hope to see you this week !!