Hello !
I am thinking spring cleaning ... time to clear stuff out ... and get more !! So in the next few weeks I will be going through the store , gathering things that have been here too long ... so watch for a sale !! Then when that stuff is gone ... NEW STUFF !!! I have lots of new product & no room for it as well as lots of pre-orders on their way ... so time to make room.
So what's new this week ?
Well ... in
Beads
... how about a kit for a summer bracelet ?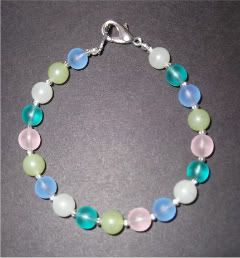 This is the Easy Breezy Summer Bracelet ... the kit is $6.99 and includes everything you need - everything - beads, spacers, wire, crimps, findings, crimp covers, and instructions. An easy way to kick off your summer jewelry collection !!
And ... I will have some new strands of multi-size pearls as well as new metal spacer beads.
I also have a new line of
metalized beads
. That means they are acrylic coated with metal. Now why would this be good ? Well, the beads are actually coated with sterling silver ... excellent for people with allergies. They give you the look of sterling but are affordable . They are also light - very important as some of the beads are quite chunky- solid sterling silver would be very heavy and extremely expensive. They come in 2 finishes - bright silver and antique silver. The antique has a very good long lasting coating on them as well. They are really attractive beads and it is a line I will be expanding. Now to get something made with them !!
And in
Paper
...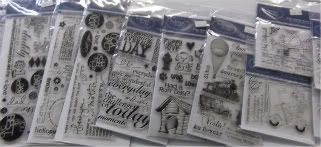 new
stamps
from Technique Tuesday, Impression Obsession , Maya Road, and We R Memory Keepers. Chipboard binders from Maya Road as well as ribbon, trinkets, zipper trim, and chipboard cameos. Punches. New Spellbinders Nestabilities. Ribbon - crepe, lace, roses, dotted ... More packages of staple colours of 8.5 x 11 Bazzill smooth cardstock - white, cream, kraft ... only $6.99 for packages of 25 sheets.
And
TAPE
!!! You know how you make a beautiful card only to see it a few days later ... and the front has fallen off ?!! So much of the scrapbooking tape is not sticky enough. Well I have a solution !!! ATG tape. Two sided tape that is VERY sticky !! I have it in 1/2 wide rolls in two sizes ... 36yards for $3.99 and 60 yards for $5.99. Good value, great tape !!
And here is this week's kit ... $5 for 3 cards ...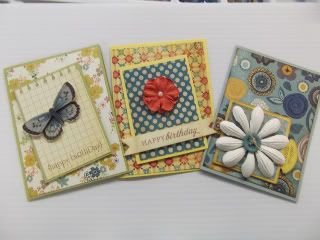 Well, that's it for me this week. Stop in !!