Seriously !! The month of March is National Craft Month in the US and Canada ... but I say who needs it ??!! A month for crafting ?? HA ! We are all hardcore crafters here ... a month will never do !! We celebrate the "art of craft" and the plain old joy that comes from it EVERY month. Heck. Every week. Every day !! I can't just celebrate crafting for one month - it's a part of who I am and what makes me happy ... every week !!! So let' s just go to it ... and craft !!
I have the Kit of the Week for you ... three lovely floral birthday cards. And I am sure you realize that you can replace the birthday tags with any occasion tags you want. You can flip the paper over, mix up the colours, whatever ... as long as it makes you happy !! SO you get all the materials precut for three cards for $5.
And I am actually getting ahead on the weekly kits ... I have ideas stacked up for several weeks ... so that means more samples, more projects, and jewelry kits in the month ahead !!
I am also planning a kit that involves a little experimenting ... and setting up a table with lots of inks, sprays, etc in the store on a Saturday morning so that you can come and experiment. More on that in the next few weeks.
(The papers are actually NOT blurry in real life ...!!)
This week I have a beautiful line of papers form My Mind's Eye called
Stella and Rose.
It has several different "families" so the papers are feminine, some are masculine, the colours are varied and gorgeous. The paper is very thick and good quality. There is something for everyone !! And there are some great add-ons - labels, tags, titles, journalling cards, etc... I can see lots of fun projects from this line !!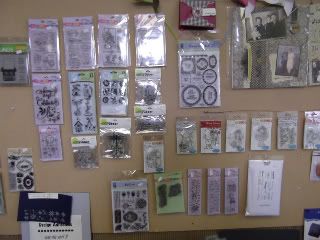 New stamps from Stampavie, Inkadinkadoo, and Stampendous ... birthday & sympathy sentiments, teddy bears, lighthouses, ...
Beads ... well I have 2 boxes of beads to open and price this week !! Exciting !!
So far there has been lots of vials of new beads, metalized beads, wire, findings galore, fire polished strands, and ... somewhere ... new chain !!
So I am going back to unpacking ... there are lots more new things to come out of the boxes. Drop in !!