There is so much to tell you about ...
1. Kit of the Week ...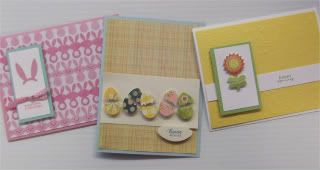 card kit , all the parts to make 3 cards, $5. This week it is all about Easter and Spring.
2. Bracelet Kit ... I now have more of the matte pink beads so I'll have more of the kits from week before last.
3. New Beads :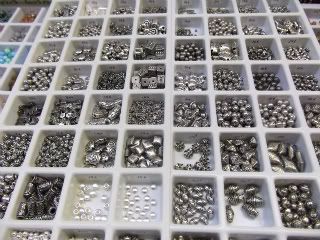 TWO trays of the sterling silver plated beads. These beads are great !! They are acrylic so they are light and inexpensive ... but ! They are plated in sterling silver. They would be great in a chunky necklace or bracelet or in long chain style necklaces. Super for earrings because of the lightness !! I have lots more styles - from small spacers to big chunky focal beads, in 2 finishes - antique silver and shiny silver.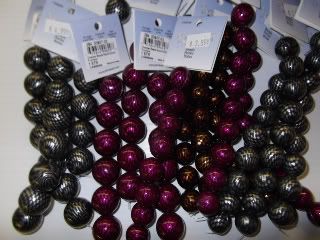 CHECKER Beads : these beads are really fun & funky !! They are lightweight and come in lots of fun colours & sizes. I have only unpacked a few so far but will get them all unpacked by tomorrow ! Great on chains in multi strand necklaces.
4. New Paper : * JilliBean Soup - 2 collections "Dutch Mustard Soup" and "Spotted Owl Soup" ...
the first collection is yellows, browns, greens, and oranges.
The second is blues & apple green. Both are fun & fresh !! There are also some really cute "Sugar Picks' (pins) and corrugated shapes to embellish.
* Honey POPS !! from Inky Antics. Now these are fun !! First, there are stamp sets ...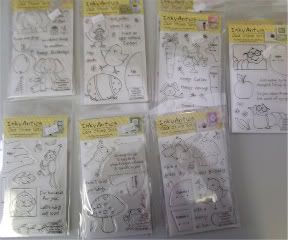 they have several stamps in each set - some that can just be stamped & coloured and some that are especially for the special honeycomb paper. Now, you can use these stamps just as regular stamps ... OR ... you can add the *pop* !!!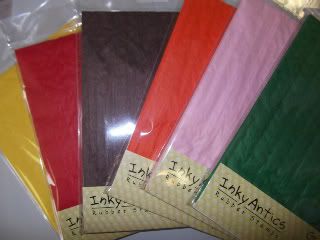 You use the special honeycomb paper, stamp the image, cut it out, add it inside the card, and VOILA ! The recipient will be surprised by the beautiful 3D surprise inside !! I made one & loved it !! (I learned a few things ... like, it would be better to stamp on the honeycomb paper with a tone-on-tone ink because you can see the dark line if it doesn't get cut off exactly ... oh well ... beginner's attempt !!) The paper goes quite far - I figured I could get 12 cupcakes out of one package if I cut carefully.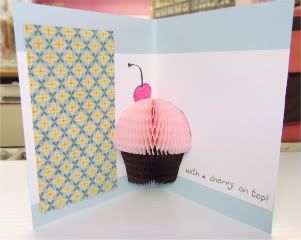 5. TRY-IT-SATURDAYS ... I am going to try to have one of these very 4-6 weeks. It will be a Saturday when you can come in and TRY new products - hands on !! See how you use things, see if you like them, make a little project !! The first one will be Saturday April 30th ... this one will tie in with the Kit of The Week. The kit will be one you can take home & do there or you can come & use some of the great inks & products I have in the store to complete it. It will feature Parisian Anthologie Paper from Pink Paislee and ribbon. You will be able to add inks & Glimmer Mist to the amazing embossed paper and then dye a few yards of crinkle ribbon to use on another project. So, mark it on your calendars. And remember to pick up or speak for a kit that week !!
6. I have a Big Kick for sale ... it is a wonderful machine.
It embosses and diecuts. It will cut paper, fabric, chipboard, and mat board. It hasn't been used too much ... (like most of my stuff, I hate to say ...) and will make someone very happy !! I am selling it because I have bought an electric version as I often need to cut 25 or 30 pieces at a time. The Big Kick is manual . Anyway, it includes a brand new set of cutting plates and is $65 ... less than a new Cuttlebug and more powerful !! Let me know if you are interested !!
( psst ... there may be a Cricut soon too ...)
So that's it for now ... hope to see you !!