Hello ! Today there is some sunshine out there ... and it feels good ! It has been such a dull rainy month ... this sun is just what we needed !!
KIT OF THE WEEK
: Also sunshiny !! I used bright colours ... guess I was craving a little brightness. Anyway, one of my favourite combinations is blue & orange (and they are complimentary colours I later learned) and to me they just say festive !! So I have some simple but festive birthday cards . I think they would be suitable for a woman, a man, or kids ... multi purpose !!It's funny but not one of them says "Happy Birthday" ... they say "Eat Cake", "Wish Big" and "It's Your Day" ... nice to have a little different greeting !! So you get all the pieces precut & prestamped to make the 3 cards ... all for $5.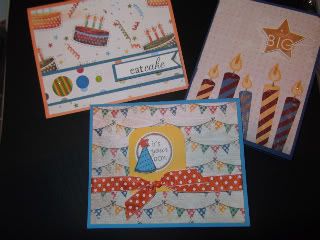 Paper
: I have a few more Lawn Fawn samples for you ... I really adore these stamps. They really are a style I like and I can't seem to stop making cards with them !!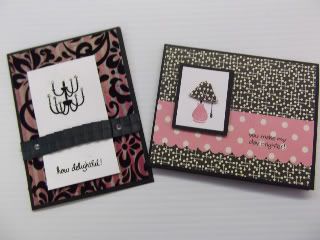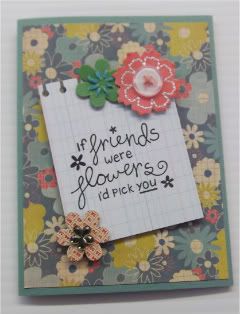 And here are some fun new tools & products ...Spritz Screens and Spritz Boards by Hampton Art. They come in packages or I am selling them individually for 50 cents a piece. You would spray or sponge ink over the Screens to create a design on your paper. The Boards are embossed with a resist design that appears when ink is rubbed or sprayed on them ... much like the paper we used a few weeks ago. They would make a really cute addition to a card or page. Here is an example of a card background with the screen sponged over and a board that has been rubbed with ink.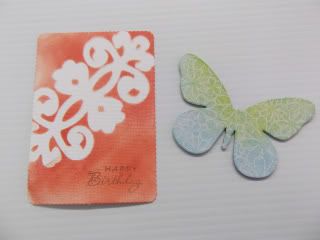 ** I have a basket of stamps marked down for quick sale ... up to 50% off !!!! **
Beads
: More checker beads ... some would be great focal beads ... prngle shaped !! Still unpacking and putting out new charms and findings. I have some more new semi precious donut beads. And the seedbead rack is getting refilled !!!